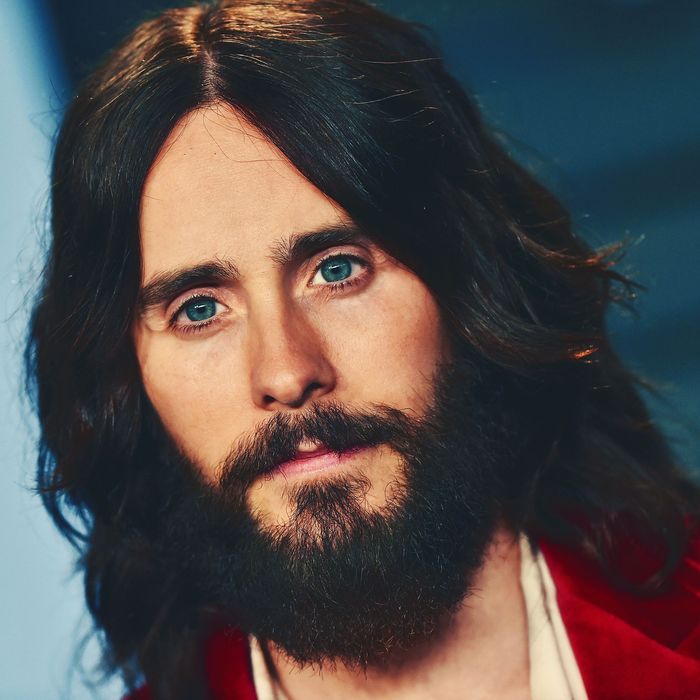 Jared Leto.
Photo: Axelle/Bauer-Griffin/FilmMagic
Here's your nationwide traffic advisory for this week: Drivers should be on the lookout for one glossy-haired 46-year-old roaming the highways to promote his new album America. His name is Jared Leto, and while he's not dangerous per se, he did once mail his colleague a box of bullets, and he seems like he's could easily talk your ear off about Burning Man for at least an hour, probably three.
The Thirty Seconds to Mars front man and method actor announced his travel plans during a radio interview on On Air With Ryan Seacrest on Monday, telling Seacrest, "It's a pretty big adventure. I'm going to hitchhike, among other things, across the country from New York City to Los Angeles. I'm going to jump on a donkey in the Grand Canyon or take a hot air balloon."
So far, Leto's tour has involved greeting fans in Times Square, and performing in Grand Central and Penn Station. From New York, he's headed to Cleveland to see the Rock and Roll Hall of Fame, and Chicago to see the Skydeck.
Leto is not the first eccentric actor to undertake a cross-country hitchhiking tour. In 2016, normcore style god Shia LaBoeuf participated in a month-long performance art piece called #TakeMeAnywhere, in which he and two friends would tweet their geographic coordinates, and whoever picked them up first could take them anywhere they wanted to go. Seacrest, however, likened Leto to Forrest Gump. "I already got the beard," Leto laughed.
Anyway, best of luck to Jared, his album, and all the drivers who welcome him into their cars. Hopefully he doesn't leave a used condom behind.