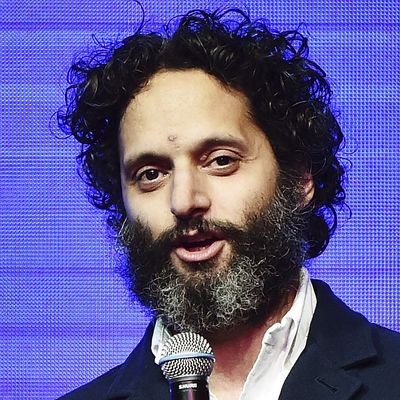 Jason Mantzoukas, hot guy.
Photo: Alberto E. Rodriguez/Getty Images
You may know actor Jason Mantzoukas as Derek, Good Janet's malformed boyfriend on The Good Place. Or you may know him as Rafi, Ruxin's disgusting, sexually depraved brother-in-law on The League. Or you may know him as Dennis Feinstein, a perfumer who creates scents with names like "Sluts" and "Butterface" on Parks and Recreation. (You may also know him as Dr. Steve from Transparent, who — if I recall correctly — wasn't actually that bad.) But for three Cut staffers, Jason Mantzoukas is known for being … totally kind of hot.
Join us as we unpack Jason Mantzoukas, fictional perma-scumbag and actual hot man.
Kelly Conaboy, writer-at-large: So I guess we should start again with the question: When did you guys first realize Jason Mantzoukas is hot?
Gabriella Paiella, senior writer: I first got introduced to Jason Mantzoukas via his character Rafi on The League, a show I somehow watched all seven seasons of even though it's about fantasy football. I definitely did not find him hot there, but that's where my fandom started.
Madeleine Aggeler, staff writer: I also first saw him on The League. I didn't think he was hot then, but then I started listening to How Did This Get Made, and I decided he was very hot.
KC: Yes, same about The League, even though his character was disgusting and it was not a very great show. And yeah, I hate to admit to listening to comedy podcasts, but he is really funny on podcasts.
GP: His voice is definitely hot, mostly because you can recognize it anywhere.
KC: Yeah, very hot voice.
MA: He's the new Mucinex voice! They dumped T.J. Miller.
GP: What!
KC: Oh my god.
GP: What an upgrade.
MA: Does this mean I'll be turned on by Mucinex?
KC: It's already so sexy …
GP: I have to be honest — I don't think I'd characterize my feelings for him as overtly sexual. It's more of an ever-present, radiating affection (and obviously, I still would).
KC: That's a good clarification. For me personally, my feelings are very overtly sexual, and he is one of my top celebrity crushes.
GP: Maddie, now you say a sex thing.
KC: Yeah Maddie, you prude.
MA: I would like to kiss him on the mouth and also other things. Maybe some over-the-shirt stuff.
KC: Too far, please don't be gross. One thing I love about him is, he is a Gilmore Girls fan, and I, too, am a Gilmore Girls fan.
GP: I did not know that about him! He contains multitudes.
KC: He was in the revival, simply because he is a known big fan.
MA: He's also a big Harry Potter fan, but in like a normal way. Which is also the kind of Harry Potter fan I consider myself to be.
KC: Mm-hmm …
MA: We could say, "Dumbledore did this, yada yada," and then just move on, and neither of us would be wearing costumes.
GP: I like that he doesn't have a Twitter.
KC: I really love that about him, too. Gosh, there are so many things to love about him. The worst thing is when you find a man's Twitter.
GP: The worst.
KC: There is no attractive Twitter account. Maddie, we learned from you recently that Jason once dated Connie Britton.
MA: Yes! Here's definitive proof from my home page, fuckyeahjasonmantzoukas.tumblr.com.
GP: That was the best news. The majority of news today involves being disappointed by people, but this was a rare uplifting moment.
KC: Yeah, I feel like this speaks well of him as a boyfriend.
GP: Crazy eyes, full hearts, Jason Mantzoukas.
MA: I'll be honest, it would be hard for me not to bring up Connie all the time. Not in a jealous way even, just like, "So what did you guys do together? Is she as good at talking about feelings as she seems? Can I meet her?"
KC: I wonder for how long they dated and why they broke up. Those would be my first questions on my date with him, and "When did you first realize she was so kind?"
MA: And will it bother you that I am not as kind as her?
KC: And can we watch Gilmore Girls now?
MA: That would be a great date, I think.
KC: I agree. I would love to get dinner with him and am available whenever he is.
MA: One thing I would like to bring up is how he can be so hot, even though we see so much of his eyeballs all the time.
KC: His eyeballs are VERY out at all times.
GP: Free the eyeball.
KC: I like it, honestly. If he were on America's Next Top Model, Tyra would be like, "That's your thing, make them pop out more."
MA: Yeah, it works for him. Jason, we love your eyeballs. Never change.
KC: He looks like a crazy person for sure, but also he always seems very kind, which is hard to pull off.
MA: His hair is also excellent.
KC: Yeah. To me, it's odd that there was any disagreement among Cut staff regarding his hotness because he is clearly so hot.
MA: I feel sad for them.
KC: Just because he only plays disgusting monsters all the time and looks like a crazy guy??? Come on.
GP: Remember on The Good Place when his character had wind chimes for a penis? That sounds nice.
MA: Okay, here's a question: Would you do Jason Mantzoukas in character as Rafi?
KC: Yes, I would because even when he was so gross, he was (1) hot and (2) seemed nice. Maybe that is just an issue I should work out for myself, however. Would you …
MA: In general, guys talking about wanting to have sex with their sisters is a turn off for me, but I probably would.
KC: It's certainly not something I look for.
GP: I have to pass on Rafi, I'm sorry. Perhaps I am not a true Mantzoukiac.
MA: Wow, a fair-weather fan.
KC: You'll be sorry when Maddie and I are on a date with Jason in character as Rafi, talking exclusively about Harry Potter and Gilmore Girls.
MA: With the wind chimes going wild.
GP: Stop, I already have FOMO!