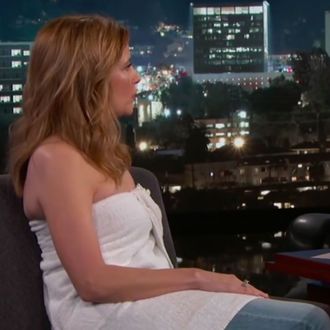 Jenna Fischer, towel, Jimmy Kimmel.
Actress Jenna Fischer ended up unexpectedly taking part in the bathleisure trend on Jimmy Kimmel Live! last night. "I waited a little too long to get dressed and my zipper broke and I panicked," she offered by way of explanation for her shirt, an actual towel. "I am a Missouri girl, and the show must go on."
To get Fischer's ultimate day-to-night look, just wrap a towel around you after you shower, do that thing where you aimlessly sit around for half an hour waiting to get dry, then put your jeans on.