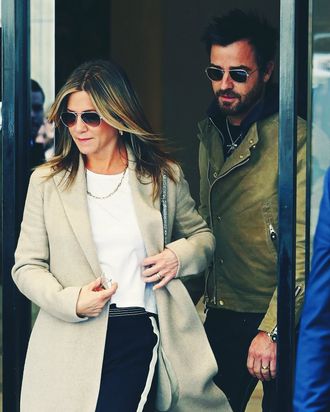 Jennifer Aniston and Justin Theroux.
Photo: Mehdi Taamallah/NurPhoto via Getty Images
Celebrity exes — they're just like us! According to People, Jennifer Aniston and her edgy ex Justin Theroux both wanted to stop by Jimmy Kimmel's birthday party for his son this weekend, but not at the same time, because that would've been awkward.
The exes are finally confronting that classic, post-breakup headache: They have mutual friends but don't want to all hang out together. Two of those friends happen to be Kimmel and his wife, Molly McNearney, who threw a star-packed rager for their 1-year-old son, Billy, in Hollywood this weekend. To sidestep any potential conflicts, Aniston and Theroux did what we've all done at least once, with an ex-partner or ex-friend or annoying friend-of-a-friend: They showed up at different times.
According to People, Theroux mingled at the party first, which he documented on Instagram with total Daddy pics. "A boy who in 365 days has done more for American national health care than we could all wish to do in our lifetimes," he captioned his photos, referencing Billy's struggle with heart conditions.
After laughing like old friends with the sweet baby boy, Theroux bounced so Aniston could hang without being in the presence of her ex. (It's unclear if any texts were exchanged between the exes, Kimmel, and McNearney to execute this so flawlessly.)
According to a source who spoke to People, Aniston is "doing well" — maybe not flirting-with-25-year-old-models well, but well enough.