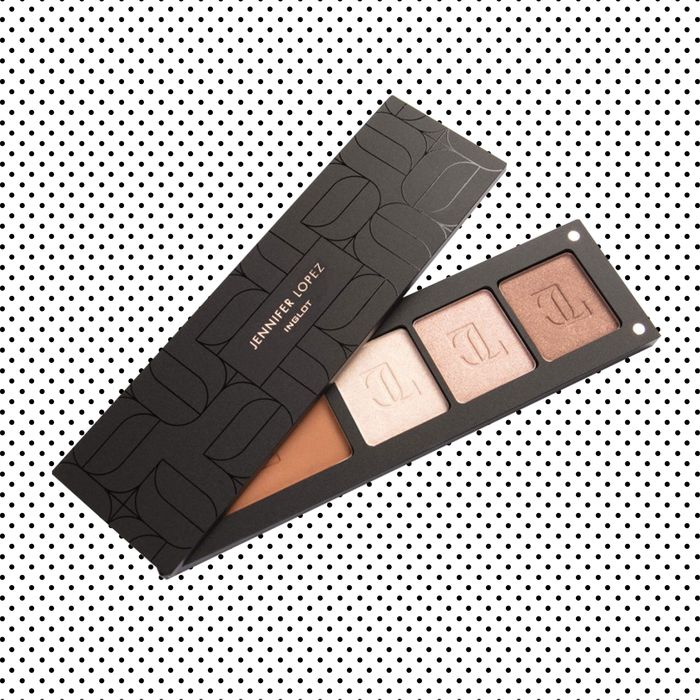 The launch date for Jennifer Lopez's limited-edition makeup collection with Inglot is quickly approaching. She's called the line a "natural progression, since people are always asking about the products I use and how I get the glow to my skin." (Well, that plus her youth-giving daily affirmations.) To get shoppers excited about her new collection, Lopez released one of her products, an eye and face palette, early.
All of the shades in the First Look Palette are embossed with Lopez's initials, and they're all part of Inglot's Freedom System, which means they're meant to be mixed with other colors and textures for a seamless, blurred finish. The palette is magnetic, so if you ever run out of one shade, you can pop in another and carry on blending.
The eye-shadow shades come in a shimmery Pink Satin, Ivory, and Taupe. The bronzer is a matte cocoa shade made with HD pigments so you'll look as flawless as Lopez does in, well, pretty much everything. So far though, the shade names in this palette don't sound as exciting and funky as the "Boogie Down Bronze" bronzer we were promised a couple weeks ago. But there's still time for her to get right and name a red lipstick after "I Luh You Papi," a smoky eye palette after "Waiting for Tonight," or even make her own version of the Brazilian Bum Bum Cream and simply call it, "Booty."
The palette is available now for preorder from Inglot, and at $49 it's the most expensive piece in the collection — the other products will range from $8.50 to $26. The rest of the collection will launch on April 26.
If you buy something through our links, New York may earn an affiliate commission.