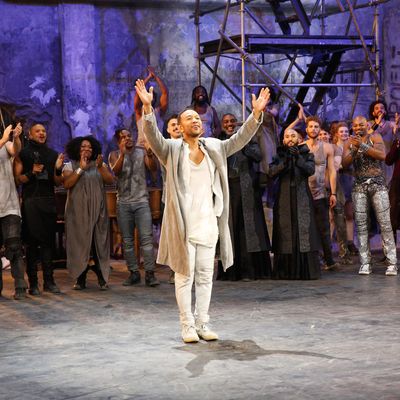 John Legend and the cast of
Jesus Christ Superstar
.
Photo: Eric Liebowitz/NBC
Last night, after a long day of brunching, many Easter revelers took off their Sunday best and put their feet up to watch Jesus Christ Superstar: Live in Concert on NBC — a spectacle that turned out to be unbelievably fashionable.
John Legend played a dashing Jesus, and his wife, Chrissy Teigen, offered live Twitter commentary on his performance (and costumes) throughout the night. While she seemed to mostly be fixated on the "deep V's," or V-neck shirts worn by a handful of the characters, Teigen was also quick to point out the many designer references as well.
"Rick Owens x Jesus," Teigen tweeted at one point, referring to Jesus' layered gray ensemble, which did, in fact, look like it was pulled straight off a Paris Fashion Week runway.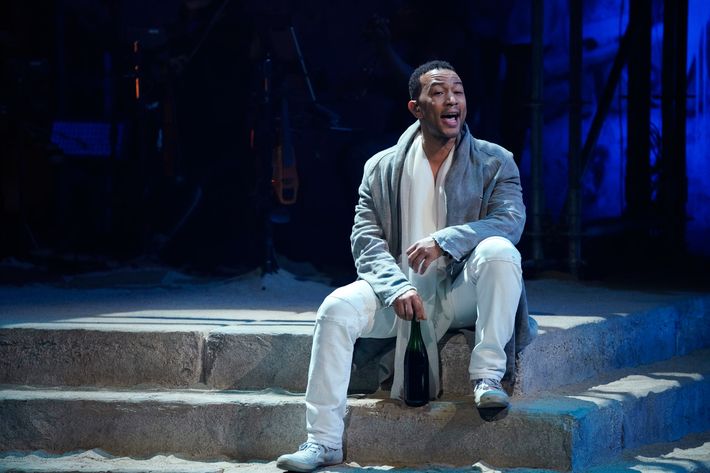 That's exactly what costume designer Paul Tazewell — who won a Tony for his work on Hamilton — was going for, telling Fashionista that he looked to designers Ann Demeulemeester and Issey Miyake for inspiration as well. Many following along on Twitter also noted that the cast's distressed sweats and sneakers bore an uncanny resemblance to Kanye West's Yeezy line.
In reality, Jesus wore Balmain jeans and expensive sneaker-boots by the Italian label A Diciannoveventitre. Tazewell told The Hollywood Reporter that he wanted the costumes to reflect "the kind of clothes you see people wearing riding on the L train." (The production was filmed in Williamsburg, after all.)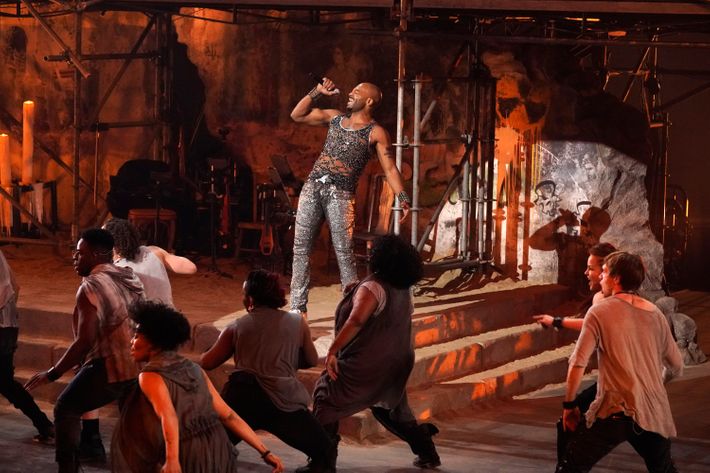 In contrast to Jesus and Mary's Williamsburg-drifter chic, King Herod (Alice Cooper) and Judas (Brandon Victor Dixon) were much flashier, in metallic "Las Vegas" suits and rhinestone tank tops, respectively. According to Tazewell, Judas's bling-y costume was a reference to the silver he was paid to betray Jesus. (And not, say, Hood by Air.)
The best, most high-fashion look of the night was actually that of the priests, though, who wore emo-looking black robes inspired by Issey Miyake's geometric Bao Bao bag. It was on-trend in its Matrix-ness, but also unlike anything we'd ever seen on Earth. Praise be!