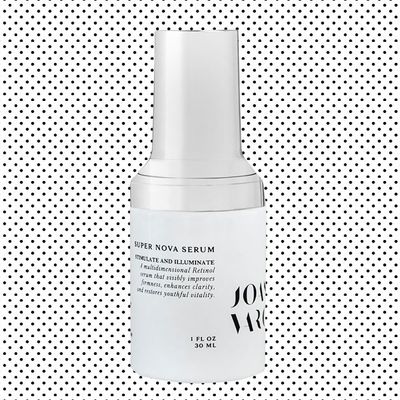 Photo: Courtesy of Joanna Vargas
Celebrity facialist Joanna Vargas is most known for getting celebrities ready for the Oscars and the Met Gala, and her newest serum aims to cement her luxury beauty brand. The Supernova Serum is used in Vargas's Supernova Facial, which uses cryotherapy, blue-light LED devices, vitamin C serum, and glycolic acid for skin worthy of her clients, like Eva Mendes, Jenna Dewan, and Sofia Coppola. For those who can't make it to one of her Los Angeles or New York City salons, the serum was made to give you an at-home "glow like the Milky Way."
The Supernnova Serum contains retinol, which in non-science-y terms means it uses vitamin A to help clear problematic and acne-prone skin, tighten and firm, and add radiance to dull, tired skin. Usually there's a waiting period for skin to adjust to retinols and they can make skin sensitive, red, and even peel. But Vargas's formula is thoughtfully balanced with retinol alternatives and chamomile for soothing hydration to ward off some of the less glamorous effects of using the skin-care hero. Vargas also included summer snowflake flower extract, which is supposed to brighten dark spots, Persian silk tree extract to help preserve collagen (which keeps the skin plump and looking youthful), and apple fruit cell culture extracts to promote skin cell growth and turnover to reverse signs of aging.
All in all, the serum promises to overhaul major skin problems, helping you look younger and more refreshed, and it can even be used as an eye serum. However, achieving the perfect glow of a Hollywood star comes at a major cost: almost three hundred dollars.
The serum is available now from Joanna Vargas and Revolve.
Photo: Courtesy of Joanna Vargas
If you buy something through our links, New York may earn an affiliate commission.