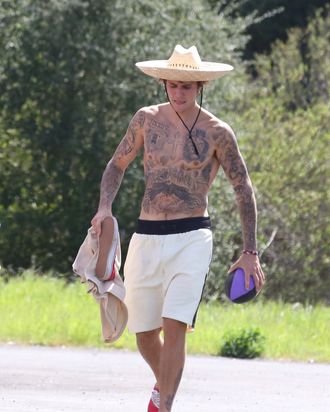 Justin Bieber wearing one shoe.
Photo: Jacson/Splash News
Justin Bieber took a break from hanging out with interestingly named models this weekend to partake in his true passion in life: wearing one shoe only.
During a Sunday hike in Malibu, the "Better at 70" thigh-tattoo-haver ditched his shirt and one of his shoes, and then proceeded to walk around with one shoe on and the other in his hand. He also wore a big hat and carried a regular-sized ball, and later changed into some swim trunks while stopping by a "watering hole" with a friend.
We can only assume the one-shoe look is this year's male crop top.