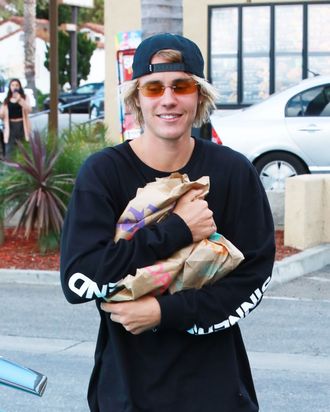 Justin Bieber with Taco Bell.
Photo: JAPZ, JOGA/4CRNS, WCP / BACKGRID
Shoeless dancer Justin Bieber took a break from hanging out with interestingly-named models on Thursday to spend some time with the other love in his life, Taco Bell. The hiker was photographed inside of a Studio City, California, branch of the fine dining establishment, where he was spotted using the women's restroom while wearing his favorite church apparel. He then emerged from the Taco Bell, holding his meal close as he walked to his blue Lamborghini. No word yet on whether he's actually let go of the bag.