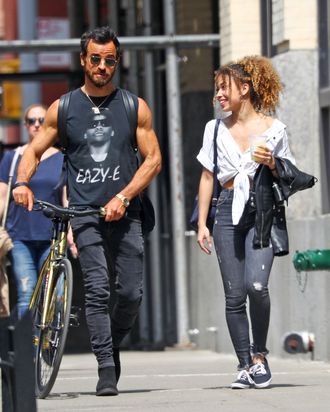 Justin Theroux and Erika Cardenas.
Photo: BMBRO/MEGA
When Justin Theroux and Jennifer Aniston announced their split back in February, the tabloids quickly linked Theroux to Petra Collins, a 26-year-old fashion photographer who's part of the "edgy" New York art scene Theroux claims to love. This weekend, however, he was photographed in Manhattan hanging out with someone a bit younger: a 25-year-old model named Erika Cardenas.
A source told People that Theroux, 46, met Cardenas at the gym, and that "there is no romantic relationship." What do you think: Is hanging out with a 25-year-old model "edgy," or just a regular thing a recently divorced, 40-something actor might do?