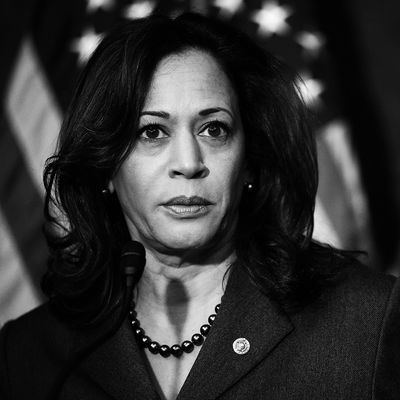 California Senator Kamala Harris.
Photo: Chip Somodevilla/Getty Images
Kamala Harris appeared on The Ellen Show on Thursday to play 20 Questions, but stayed mum on the most important one of all: Will she run for president in 2020?
Senator Harris, whose recent legislative efforts include co-sponsoring Senator Bernie Sanders's single-payer health-care bill and introducing a bill making revenge porn a federal crime, was introduced by Ellen DeGeneres as "possibly your next President of the United States." But when the host asked point-blank about running in 2020, Harris pivoted, "Right now, we are in the early months of 2018," before citing health care, uncertainty around immigration policy changes, and an assault-weapons ban as "immediate needs."
She then added, "I've seen so many people, Ellen, focus on that thing out there, and then trip over this thing here. I don't wanna trip." Which didn't stop DeGeneres from asking about running mates, prompting the senator to quip back, "Got any plans?" 2020 can't come soon enough.