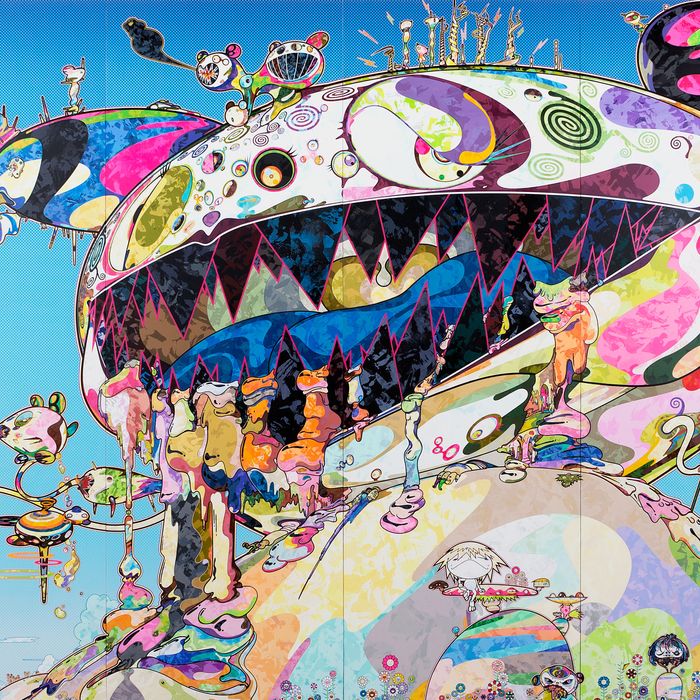 Tan Tan Bo Puking - a.k.a. Gero Tan
by Takashi Murakami.
Photo: Courtesy of the Louis Vuitton Foundation
When Kanye West released Graduation ten years ago, Takashi Murakami gained popularity as the mystery artist behind the album cover's anime-style graphics. Referred to as the "Andy Warhol of Japan," Murakami had another early breakthrough in commercial fashion in 2002, when Marc Jacobs  invited him to help design a hugely successful line of handbags for Louis Vuitton.
Now, three years after the end of the handbag partnership, Louis Vuitton is featuring Murakami's work again in a new show at the Fondation Louis Vuitton Frank Gehry Galleries in Paris. Titled "In Tune With the World," the exhibition has dedicated an entire floor of the building to feature Murakami's work, including the never-before-seen fresco, The Octopus Eats Its Own Leg.
The works of 28 other renowned contemporary artists who explore existentialism are displayed throughout the galleries, such as Henri Matisse and Gerhard Richter. Murakami's floor is divided into three galleries: The first features Mr. DOB, the famous playful rodent-like character considered to be his alter ego, followed by an entire room dedicated to the new fresco, and a third gallery titled Kawaii (meaning "cute" in Japanese) comprised of sculptures, wallpaper, flower paintings, and animated films in his signature anime, manga-cartoon style. Scroll to see a few other works in the show.
"In Tune With the World" opened April 11 and will be on view at the Fondation Louis Vuitton's Frank Gehry Galleries in Paris until August 27, 2018.