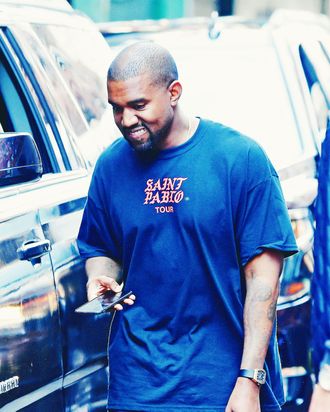 Photo: Josiah Kamau/BuzzFoto via Getty Images
Kanye West has a new get-rich-slow scheme: He's writing a book. But not just any book. A "book," to use air quotes like his former collaborator turned luxury designer, Virgil Abloh.
Last week, we were gifted with a rare and revealing interview between Mr. West and famed industrial designer Axel Vervoordt via The Hollywood Reporter. During their conversation, West revealed that he was in the middle of writing a "philosophy book" called Break the Simulation. (Someone's been watching The Matrix!) West then backtracked, saying that "philosophy" was too "heavy-handed" a word. No, Kanye West has "concepts." Lots of them.
Today, West clarified on Twitter that his book is a "concept," too.
"Oh by the way," he wrote. "This is my my book that I'm writing in real time. No publisher or publicist will tell me what to put where or how many pages to write. This is not a financial opportunity this is an innate need to be expressive."
"I will work on this 'book' when I feel it," West added, in case it wasn't abundantly clear that he does whatever he wants, when he wants.
Since returning to Twitter this weekend, West has waxed poetic about everything from neck tats to late capitalism. But he's also asking a lot of deep questions about "time," "originality," and "ideas." Clearly, Kanye West has moved on from his "Oh great now I gotta be responsible for this water bottle" days on Twitter. He's become a Zen guru — our new Rev Run.
In 2016, Kanye West said his Twitter was a work of "contemporary art." Now it's a "book." Whatever it is, we're buying it. Conceptually, of course.