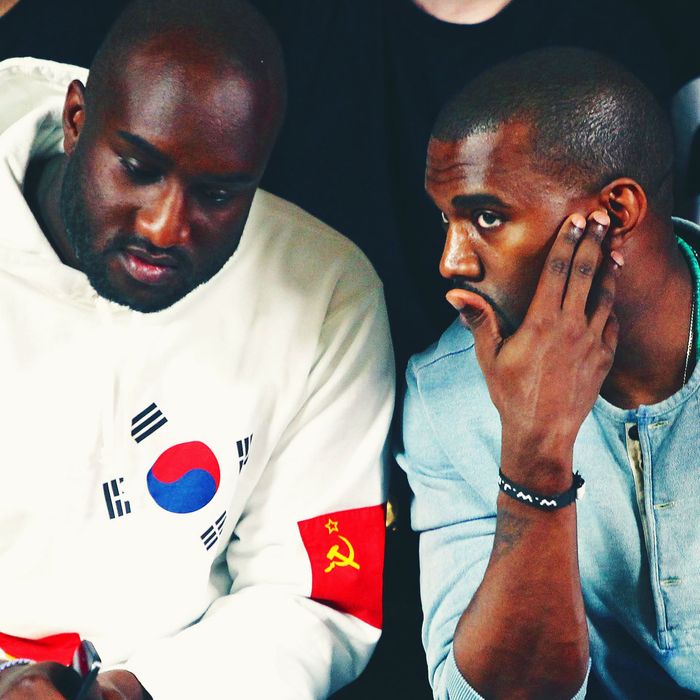 Virgil Abloh and Kanye West.
Photo: Amanda Schwab/StarPix/REX/Shutterstock
"When you walked into the room, I had been dealing with a very heavy concept this week that I couldn't get out of my head."
Kanye West says this to interior designer Axel Vervoordt during their wide-ranging, existential conversation for The Hollywood Reporter, published Friday. Mr. West goes on to explain that he was feeling some type of way following the announcement that his friend, Virgil Abloh, was appointed artistic director of Louis Vuitton men's.
"It's not bad or good," West tells Vervoordt of the news. But it is weighing on him.
"[Abloh and I] have been fighting to make apparel at a certain price that still has the same credibility and desirability as something at a higher price," West adds, perhaps implying that Abloh has now traded teams by joining LVMH. West also wants to clear something up: "When they say [Abloh] was my creative director, that's incorrect. He was a creative collaborator."
It is completely understandable for West to have feelings about his longtime collaborator's new job. What, exactly, those feelings are is impossible to say based on these two quotes. (Kim Kardashian West was congratulatory on Twitter.) But this interview is as good of a glimpse into West's mind as anyone's going to get.
For the full story, we'll just have to wait for the release of West's upcoming book — which he also mentions for the first time in the interview, Break the Simulation.