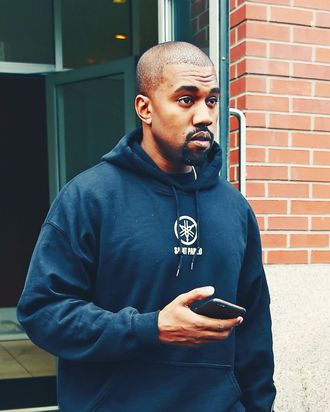 Photo: Josiah Kamau/BuzzFoto via Getty Images
Another day, another Kanye West Twitter thread.
On Wednesday, West declared that Yeezy, the line he started in collaboration with Adidas, will "hit a billion dollars this year." But that's not all: It is (allegedly) the second-fastest growing company in history, with 160 open positions to fill by the end of 2018. "It is a unicorn on its way to becoming a decacorn," as West put it.
According to Bloomberg, a "decacorn" is actually finance-speak for a start-up worth more than $10 billion. (With a unicorn being a $1 billion business.) So, fine. Maybe we need to expand our finance consciousness because we actually thought he was talking about mythical creatures for a minute. But decacorns are still about as real as Kanye West's Yeezy "facts," which he says are not at all like the "fake news" out there. Sound familiar? Yeah.
Anyway, Yeezy will become the "biggest apparel company in human history by working with the most genius level talents and creating product at an affordable price," West declares — as fact. In case you don't believe him, he's hired Deborah Palmer Keiser, a former head of supply chain at the Gap.
Oh! We almost forgot. Kanye West is also apparently the single-highest-paid person in footwear, making more money than Michael Jordan, who reportedly raked in $110 million from his Nike partnership.
Here's why: Yeezy sneakers are selling out, and fast. During Coachella weekend, for example, West says that 250,000 Desert Rat 500s were sold in one hour. (The same number of people attended both weekends of the festival last year.) "Please do not try to play Yeezy or anyone who wears Yeezy," West advises. Can we get that on a T-shirt?
West then goes on to throw some love at Adidas. "This could've never happened at Nike," he says. It bears noting that Nike is currently the second-largest apparel company in the world, according to Forbes. Adidas is fifth.
So, the only "fact" we can confirm at the end of all this is that Kanye West still believes in the ultralight beam glo-up. Next stop, Yeezy Force One.