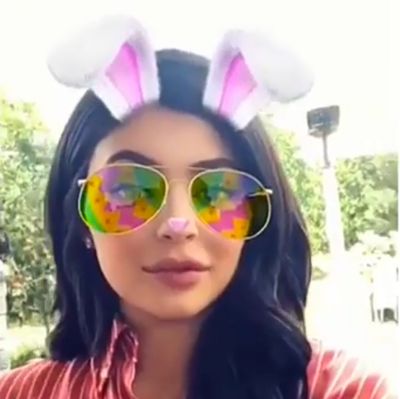 Kylie Jenner.
Photo: kyliesnapchat/Instagram
Once again proving that they know how to celebrate every occasion better than the rest of us, the Kardashian-Jenner family had an extremely elaborate Easter Sunday. The klan celebrated the holiday in Calabasas with eggs filled with money, baby farm animals, a 10-foot-tall bunny made out of flowers, and basically every tulip in America.
The fancy backyard Easter brunch was attended by new mom Kylie Jenner, Kourtney Kardashian, Kim Kardashian West, Kris Jenner, and plenty of Kardashian-Jenner friends. Everyone shared a wonderful amount of pictures and videos from the day, much to our delight. First things first, Kylie gifted us with the ultimate Easter miracle by sharing sweet images of her boyfriend Travis Scott and baby girl Stormi — the little girl's first Easter.
We were also treated to images of North West cuddling with a baby chicken, while also being surrounded by goats and a rainbow grilled cheese sandwich (?).
There was also a giant inflatable slide, an elaborate long outdoor dining table set with more pink tulips than we've ever seen in our lives, kids's tables with decorative Easter egg centerpieces, and other celebratory touches, like rainbow Rice Krispie treat pops and seemingly unlimited doughnuts.
Kris posted that the family received a 10-foot Easter bunny made of flowers to celebrate the day, writing "OMG it's GORGEOUS!!!!!" and "#HeIsRisen" in the caption. But perhaps most impressively, People notes that the kids in attendance got to hunt for Easter eggs hidden in the backyard — gold eggs that appeared to be stuffed with dollar bills.
Unfortunately, pregnant Khloé Kardashian didn't seem to be able to attend the celebration — she's apparently in Cleveland, where she's due to give birth to her first baby, a daughter, with boyfriend Tristan Thompson. But still, despite her absence, the Kardashian-Jenners definitely had a better time than other families this Easter.