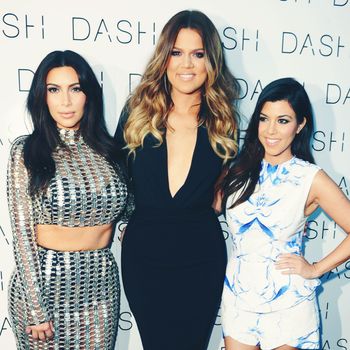 Kim, Khloe, and Kourtney Kardashian.
Photo: Larry Marano/WireImage
It is with very heavy hearts that the Kardashians announce that after 12 beautiful years, they have decided to close their iconic Dash boutiques (that were, surprisingly, still open).
According to British tabloid Metro, the sisters decided against renewing their leases, and the Dash stores in Miami and L.A. will open for the last time on May 31. While Metro writes, "it appears they will continue the online store," the Kardashians have not addressed the future of shopdashonline.com.
On her personal website, Kim wrote a heartfelt post about how "grateful" for the "amazing memories" they are, but that they "know in [their] hearts that it's time to move on."
"From opening locations in Los Angeles, Miami and New York, to having our 'Dash Dolls' spin-off show, it's been such a huge part of our lives," she wrote. "We've loved running DASH, but in the last few years, we've all grown so much individually. We've been busy running our own brands, as well as being moms and balancing work with our families. We know in our hearts that it's time to move on."