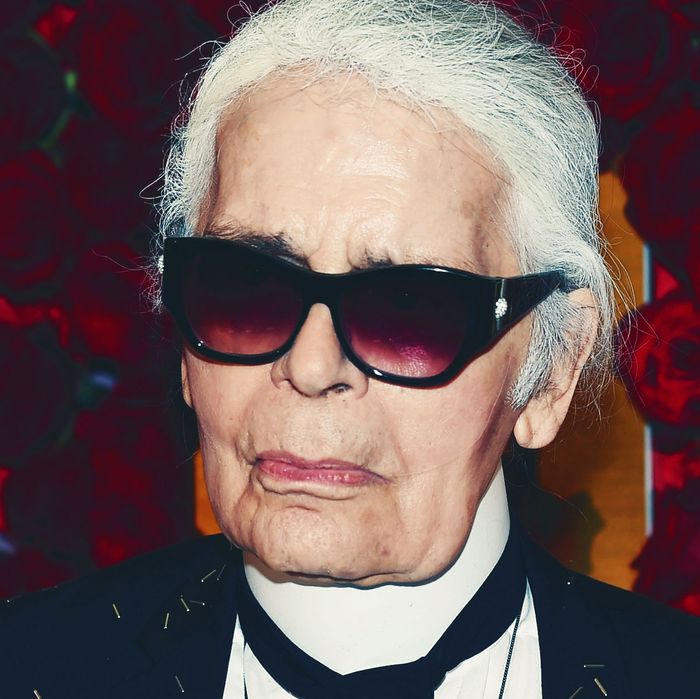 Karl Lagerfeld.
Photo: Jamie McCarthy/Getty Images
Fashion designer Karl Lagerfeld has never been one to filter himself in an interview. He's provoked outrage on numerous occasions for his comments on everything from immigration policy to body image. And he's not afraid to talk smack about other designers, either. (He once described Yves Saint Laurent as "provincial.") A new interview with the 82-year-old designer in Número magazine, released in English on Friday, is no less shocking in its candor.
"All the other designers hate me," Lagerfeld told interviewer Philip Utz. Reading their conversation, you get a sense of why this might be the case. In addition to opening up about his "enemies" like the late Azzedine Alaïa and Yves Saint Laurent co-founder Pierre Bergé, Lagerfeld also seems to throw shade at designers like Virgil Abloh, Jacquemus, and Jonathan Anderson. When asked which of the three he'd rather be stranded with on a desert island, Lagerfeld replied: "I'd kill myself first."
Below, we've culled the most jaw-dropping quotes from Karl Lagerfeld's Número interview.
On his enemies:
"I'm sorry but last year I lost my two best enemies Pierre Bergé and the other one. Azzedine [Alaïa] loathed me, go figure. And for Pierre's funeral, my florist asked me, 'Do you want us to send a cactus?'"
On his funeral:
"There will be no burial. I'd rather die. Since those miserable Hallyday family stories, a funeral at the Madeleine looks like a joke. I've asked to be cremated and for my ashes to dispersed with those of my mother … and those of Choupette [Karl Lagerfeld's cat], if she dies before me."
On Azzedine Alaïa:
"I don't criticise him, even if at the end of his career all he did was make ballet slippers for menopausal fashion victims."
On men's fashion:
"Men's fashion does little for me. I buy it of course, and I'm delighted that Hedi [Slimane] is going to Céline but drawing a men's collection and having to put up with all those stupid models, no thanks. Not to mention the fact with all their accusations of harassment they have become quite toxic. No, no, no, don't leave me alone with one of those sordid creatures."
On Michelle Obama:
"Personally, I adore Mrs. Obama. I fell for her when an American journalist asked her if her leather skirts weren't a little tight for a First Lady, and Michelle Obama answered, 'Why, don't you like my big black ass?'" [Editor's note: Apparently, a White House spokesperson issued a statement back in 2012 that Mrs. Obama never said this.]
On the #MeToo movement:
"I'm fed up with it. I don't even eat pig [in France the movement's known as #BalanceTonPorc]. What shocks me most in all of this are the starlets who have taken 20 years to remember what happened. Not to mention the fact there are no prosecution witnesses. That said I cannot stand Mr Weinstein. I had a problem with him at amfAR [the amfAR Gala is organised during the Cannes Film Festival in the fight against AIDS] …"
"I read somewhere that now you must ask a model if she is comfortable with posing. It's simply too much, from now on, as a designer, you can't do anything. As for the accusations against the poor Karl Templer [former creative director at Interview magazine], I don't believe a single word of it. A girl complained he tried to pull her pants down and he is instantly excommunicated from a profession that up until then had venerated him. It's unbelievable. If you don't want your pants pulled about, don't become a model! Join a nunnery, there'll always be a place for you in the convent. They're recruiting even!"
On current designers he condones:
"The designers I prefer, in disorder, Marine Serre — [4'9"] but a will of steel — Jacquemus, who makes me laugh … and who is rather pretty too. He is funny, yes. And to conclude J. W. Anderson, even if his approach is occasionally over intellectualised — undoubtedly, I haven't done the required studies."
On his beard:
"I had one in the famous portrait of me taken by Helmut Newton 40 years ago, and I wanted to rediscover the feeling of having one again, to see if after all these years, it was still just as bothersome. What is funny is that with all these whiskers I look a lot like Choupette … we're really like an old couple. In fact, she maintains it for me, we sleep on the same pillow and she spends her life licking it."
On his peers:
"I'm not surrounded by idiots, I have fantastic teams. So, when it comes to the retarded and other ignoramuses, I don't see them, I don't know them …"
Read the full Número magazine interview, here.