A few days before we meet, Kay Cannon invites me to tag along to her daughter's soccer practice. Leni is 4, so it's not like an invitation to the World Cup or even a demonstration of developed motor skills, but I can imagine the scene. There will be a team of baby badasses running up and down the field, exhibiting shades of the personality traits that will fully emerge in adulthood: ruthlessness, empathy, focus — all the things it takes to one day overthrow the patriarchy if they keep playing peewee soccer.
It's the type of scene that's prominently featured in those reliably feel-good moments in movies: The tiny Mia Hamms score a big goal, then celebrate in a hailstorm of girl power, a scene that could have easily been ripped from a Kay Cannon project. In fact, Cannon — showrunner of Girlboss, writer of all three Pitch Perfect movies — used a charming youth soccer game to establish Girl Triumph as a central theme in her new movie, Blockers.
Unfortunately, the day I arrive at Cannon's Los Angeles home, Leni's practice has been canceled due to the type of rain that shuts down 4-year-old athletes (a light drizzle). Her daughter has already figured out other ways to entertain herself, so Cannon and I have to do the same. We decide on the favorite activity combination of mothers who find themselves with a couple of kid-free hours: a bottle of white wine at 11:30 a.m. and funny stories about the absent child.
Cannon, 43, has the warm, broadly appealing charm of the sorority sister you'd trust to hold back your hair after she enabled one too many keg stands, or the mom you'd want to ask to coffee after playgroup. She leads me back to her studio, a concrete, one-room pool house at the opposite end of the yard, where she works and screens movies. As we sit on the enormous gray couch, I notice her jewel-studded sneakers while she pours me a glass of Francis Ford Coppola's Director's Chardonnay, a tiny nod to what she's been celebrating: Blockers is Cannon's directorial debut. The movie is an obscene prom-night comedy about three high-school seniors, Julie (Kathryn Newton), Kayla (Geraldine Viswanathan), and Sam (Gideon Adlon), who make a pact to lose their virginity on prom night. The girls are idealized Gen Z–ers: direct, wise but not cynical, confident in their sexuality. Their parents — John Cena, Leslie Mann, and Ike Barinholtz — are less comfortable with it. After discovering their kids' pact, the adults spend the evening attempting to, well, cock-block.
According to Cannon, she is only the sixth woman to direct a big-budget R-rated comedy in the history of film (after Amy Heckerling's Fast Times at Ridgemont High, Tamra Davis's Half Baked, Nancy Meyers's It's Complicated, Sharon Maguire's Bridget Jones's Diary, and Lucia Aniello's Rough Night). And in an even more dismal statistic, when Blockers premieres, it will be one of only three women-directed major-studio films to come out in all of 2018 (along with Ava DuVernay's recent A Wrinkle in Time and the forthcoming dystopian thriller The Darkest Minds, directed by Jennifer Yuh Nelson).
So perhaps it makes sense that Cannon sees Blockers as a feminist project of a certain stripe: When she took the movie around to different studios and pitched it in front of male executives, she had a line she liked to use, mostly to get their shocked reaction. "I just think about my daughter," she'd say. "And I think about how beautiful and wonderful she is, and then I think this terrible thing of how one day she'll have a cock in her mouth."
In other words, it's about raunch parity as a feminist act, something of a trend in recent years in Hollywood. When Pitch Perfect came out in 2012, a wedding-dress-wearing Maya Rudolph had just taken a dump in the middle of the street for Bridesmaids, to prove — as the think pieces had it — that women could be just as disgusting as men and still get laughs and sell tickets. Cannon says she doesn't think Pitch Perfect, now a $500 million franchise, would have been made if not for Bridesmaids, which ushered in an era of those gross-out woman-centric comedies, often produced by Judd Apatow, often taking fart jokes by women as the highest proof of equality.
Evan Goldberg, a screenwriter and director responsible for movies like Sausage Party, was a producer on Blockers. He'd met Cannon when she served on a roundtable of female writers hired to consult on Neighbors 2: Sorority Rising. Blockers originally didn't have a female director, he says, "and it kind of stuck out like a sore thumb, especially after Neighbors. Our big revelation from Neighbors was that in order to service female audience members and the characters best, we need to make sure [the female character is] just as stupid as the man. That was a mind-blowing revelation: that the way to do something respectful for women is to make one of them a stupid idiot."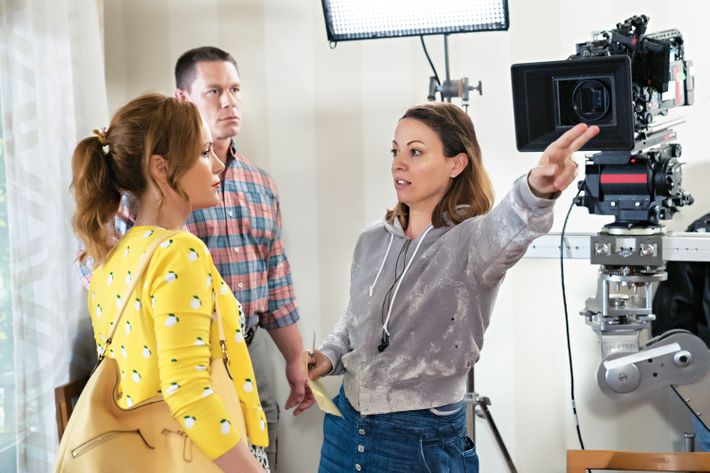 Cannon leans back and curls her legs underneath her, sinking into the couch. She's explaining how she got into comedy, a pretty standard "I was always funny" yarn that ends with a very Kay Cannon, undermining, beat. "It's important I add this: I have a face for comedy," she says, riffing on her pre-Invisalign overbite. I want her to stop being mean to herself, but I laugh. Talking to her is like watching a 30 Rock skit, which makes sense; she wrote for the show after coming up in Chicago's Second City improv scene, like Tina Fey, Amy Poehler and Rachel Dratch.
Like the Apatovian feminist raunch, 30 Rock peddled female-forward humor men could understand — woman as spinster, catty, self-deprecating; woman as cheese-loving nerd. This is apparently a more palatable female protagonist than someone like the main character on Cannon's Netflix show Girlboss, based on Nasty Gal founder Sophia Amoruso. The show was a flop mostly because people hated the heroine. It still frustrates Cannon. "We're so ingrained to see the stories of men that are flawed. We root for them to become better, and we just aren't ingrained to do that for other women." She shakes her head. Male executives asked her to change the name of the show, she tells me. But women, too, often had a negative reaction to the character: "When a woman is good-looking, bratty, extremely confident, and gets success, I think women look at that and go, Go fuck yourself."
That may not be the only reason people bristle at some of her portrayals of women, I suggest. The first Pitch Perfect did strike a chord with young women, but the girl power at play also seemed distinctly written for men to approve of: The a cappella singers are mean to one another and have to overcome their own catty tendencies to succeed, and it's also a movie about sisterhood that prominently features jokes about a character named Fat Amy (Rebel Wilson). In the sequel, particularly Fat Amy's sexuality is treated as a joke. The climactic scene features the group singing "Wrecking Ball" during a concert at the Kennedy Center at which the president is present. The bit ends when Fat Amy descends from the ceiling in a harness, splits her pants, and is left dangling, vagina out.
Cannon disagrees, politely as ever, with my take. She says she's always seen Pitch Perfect as a sports movie, one that shows the conflict between characters, not cattiness among women. "Like Rocky! My favorite," she says, jumping up to show me a vintage poster she has yet to hang.
And as for Fat Amy, Cannon shakes her head in disbelief and crosses her arms in front of her as she explains the joke. "It is not because it's Fat Amy's vagina; it's not because of her size. It's because her vagina is out in front of the president," she says. "You have this incredibly confident, wonderful actress in Rebel, who's doing this great physical comedy, and it's a real bummer that anyone would think the intention was to shame this character that was written from the heart of being just awesomely confident and loves herself."
Before Blockers was Blockers, it was called Cherries, and the script was written by two men, Brian and Jim Kehoe. The three leads were supposed to be fathers on a quest to save their daughters' virtue. Five years ago, it would have been made just like that, and directed by a man, but that doesn't play well in 2018. Blockers was written by five men (including Cannon's husband, Eben Russell), though Cannon insists she was able to doctor the script enough to make sure it felt right and not fake-feminist. (She also employed a female editor, Stacey Schroeder.)
Cannon's signature style is all over the movie, from the use of a Hailee Steinfeld song as an anthem of empowerment to an extended vomit scene to a brand of slapstick humor that I have to report works incredibly well: One bit requires Cena to chug beer through his anus. I laughed so hard I wanted to die, both from shame and ab pain.
Cannon tells me a story about one hotly debated scene: Kayla, Cena's daughter, tells her friends about her first time receiving oral sex. The joke ends with her saying "my pussy"; Goldberg wanted to veto it for being too crass. Plus, he insisted, "there's no way someone that beautiful, with that confidence, has not already had someone go down on her before." Cannon yelled, "What are you talking about? I am that girl, I was that girl!"
Cannon is proudest of a moment she feels is "authentically" and thoughtfully feminist: two moms debating how to deal with the idea that their children want to have sex. Marcie (Sarayu Blue) is Indian, an interior designer, and represents progressive parenthood: Let them do what they want; we've prepared them. Mann's character is perky, blonde, and emotionally overinvolved with her daughter: Girls cannot be trusted. It's an interesting set piece, albeit a bit soapbox-y.
Where the movie really feels of the moment — in addition to its diverse cast and light hand with same-sex exploration — is in the treatment of the younger protagonists. They aren't messy anti-heroines à la Amy Schumer in Trainwreck or Kristen Wiig in Bridesmaids: The audience is expected to accept their pulled-togetherness alongside their sexual progressiveness and experimentation. The kids are kind to one another, a marked contrast with the older generation, who feel ripped out of an Apatow movie. The three younger women are in a different film, hopefully what we'll call the "Kay Cannon movie" — Lady Bird with more puke and profanity.
Cannon realizes she hasn't checked on her daughter in some time and drains the last of her Chardonnay. We go back to the main house and up the stairs to visit Leni, who shakes my hand and tells me all about the trampolines. Cannon asks if Leni wants to walk me out; her daughter declines with "I'm just a little bit too tired."
Much of Leni's life took place while Cannon was developing the project, so it made her hyperaware of how she was raising her daughter, though no big revelation came out of it — just a simple one. "I just want her to love herself. I think that's like the No. 1 thing that any parent, especially the parent of a girl, wants. I just want her to love her body and love herself and have confidence. To have Fat Amy confidence."
Blockers opens in wide release April 6.
*This article appears in the April 2, 2018, issue of New York Magazine. Subscribe Now!