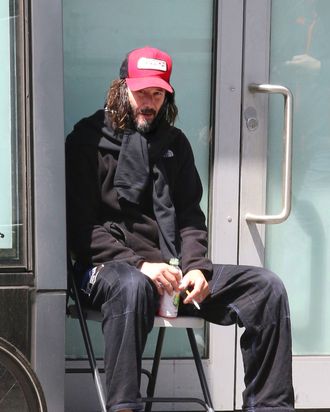 Keanu Reeves.
Photo: LGNEW/LRNYC/MEGA
In an upsetting time marked by inane tweets and sexual-harassment allegations, Keanu Reeves has bravely volunteered to continually dress just as morosely as we all feel.
As was pointed out on Twitter, the action star was photographed on Thursday sitting on a chair outside in Brooklyn, where he's been working on his film John Wick: Chapter 3. In a full-on state of ennui, Reeves was sporting a black fleece, a black sweatshirt tied around his neck, black pants, and zero (0) shoes as he drank what looks like a coconut water and smoked a cigarette. To top it off, he also wore a red-and-black trucker hat over his longer-than-I-remember hair.
We'll have to add this new sad look to our Matrix wardrobe.