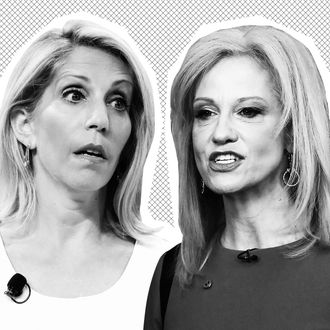 Dana Bash and Kellyanne Conway.
Photo: Paul Morigi/Getty Images/Mark Wilson/Getty Images
Rhetorical contortionist and counselor to the president Kellyanne Conway has given a lot of bizarre TV interviews — she's whipped out rhyming flashcards, paused an interview to say hi to a squirrel, and ushered the Trump administration into office with the phrase "alternative facts." But this weekend's interview with CNN's Dana Bash was one of Conway's wildest yet.
What began as a fairly standard Conway interview (questions about the president's tweets, non-answers about how CNN ignores all the good the president is doing) quickly veered off the rails when Bash asked Conway about her husband's anti-Trump tweets.
"He writes a lot of things that are supportive and he writes a lot of things about corgis and Philadelphia Eagles and sports too," Conway answered, before suggesting that Bash would not have asked her the same question if she were a man.
"It has nothing to do with that," Bash replied. "It has to do with publicly questioning what you are doing for a living with regard to your boss. And it has nothing to do with your gender."
"And it has nothing to do with my spouse," Conway bristled. "You just brought him into this, so this oughta be fun moving forward, Dana. We're now gonna talk about other people's spouses and significant others just because they either work in the White House or at CNN? Are we going to do that? Because you just went there."
She then accused Bash of trying to "harass and embarrass" her, and dropped what seemed like pointed examples.
"Let me just tell you something — by definition, spouses have a difference of opinion when adultery is happening. By definition, spouses have a difference of opinion when one is — I don't know — draining the joint bank account to support things that the other disagrees with. So this is a fascinating cross the Rubicon moment."
If only she had used flashcards to help us understand this interview.
Watch the full interview below.