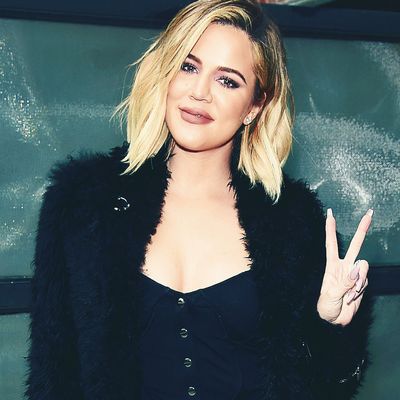 Khloé Kardashian.
Photo: Kevin Mazur/Getty Images
It looks like our prayers have been answered: Khloé Kardashian may have just given birth to a baby girl early Thursday, but she's already preparing to get the heck out of Ohio and return to the safety of Calabasas — where she'll be far away from the cheating father-of-her-daughter, Cleveland Cavaliers player Tristan Thompson.
According to People, Kardashian had been planning on raising her baby in Cleveland, since that's where Thompson plays basketball and has set up a home. But as we saw on her social-media accounts over the last month, Kardashian had been "bored AF" in her new Ohio life — while Thompson was apparently, ahem, less bored … as he was busy cheating on her repeatedly throughout her pregnancy.
And now that Thompson's alleged infidelities have become public knowledge, Kardashian is wisely preparing to flee Ohio ASAP.
People notes that Kardashian's "team" (which we assume means Kris Jenner, Kim Kardashian West, and Kourtney Kardashian) is in Cleveland helping the extremely new mom get ready to travel back to Los Angeles on a private jet. "The goal is to get Khloé out of there as fast as they can without jeopardizing the safety of the baby after she's arrived. Khloé just wants to be home," a source told the magazine.
And in case you're wondering — we know you were — it sounds like Thompson was actually at Hilcrest Hospital in Cleveland while the baby girl was born. "He has practice today, but will spend as much time at the hospital as possible," the insider told People. "Everyone is focused on what's best for their baby girl. Khloé is being the bigger person and letting Tristan bond with their baby."
But the real question on everyone's minds is …
Hopefully it can happen within the first week of life, because we need to get these girls out of there!