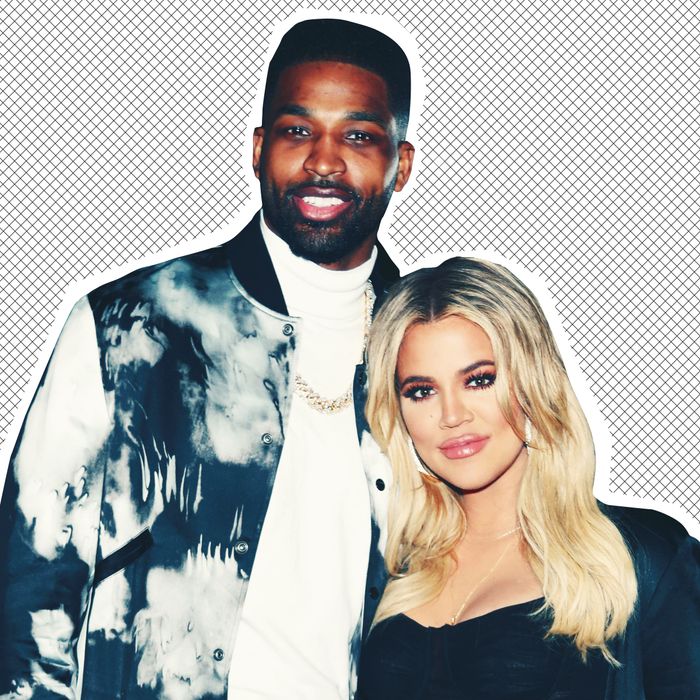 Khloé Kardashian and Tristan Thompson.
Photo: Getty Images
Welcome to You Know What I Heard, the Cut's weekly celebrity gossip column about the peregrinations of the rich and famous.
The news out of Calabasas today is: Khloé Kardashian can't catch a break. Her boyfriend, Cleveland Cavaliers player Tristan Thompson, has apparently been cheating on her throughout her pregnancy, and she's due to give birth any day. How do we know this? Well, a flurry of photos and videos showing Thompson making out with multiple other women surfaced yesterday on TMZ, the Daily Mail, and the Shade Room. People has a good list of Thompson's crimes; a source told the tabloid that "there will be more women to come out of the woodwork."
So far, Kardashian hasn't commented on the scandal. The seemingly coordinated evidence-drop on TMZ and the other sites suggests to me, however, that the Kardashians arranged for the story to go public. According to the Daily Mail, the entire family (even Scott Disick!) unfollowed Thompson on social media last night. And a Kardashian source told People that Thompson is a "serial cheater" and that yesterday's reveal was "a long time coming."
That Thompson fooled around with other women during his girlfriend's pregnancy is unfortunately not surprising. He got together with Kardashian after leaving his last girlfriend, the model Jordan Craig, when she was pregnant. Their son Prince is now 16 months old.
I'm sure we'll find out exactly what happened between Kardashian and Thompson six months from now, on a dramatic episode of Keeping Up With the Kardashians. For now, please pray that Khloé gets out of Cleveland.
In more joyful celebrity pregnancy news, Kate Hudson announced last week that she is expecting a baby girl with her musician boyfriend Danny Fujikawa. The two have been dating for a little over a year, but they have known each other for much longer, because Fujikawa is the stepbrother of Hudson's close friends Erin and Sara Foster. Erin told reporters at the Daily Front Row's fourth annual Fashion Los Angeles Awards on Monday that Hudson and Fujikawa have a "really beautiful connection."
"Kate is a really good mom," Foster added. "She's strict. She's really good with boundaries. She's tough. And Danny is like a hippie. He's very ethereal and go-with-the-flow, so it will be interesting to see how that happens."
It will!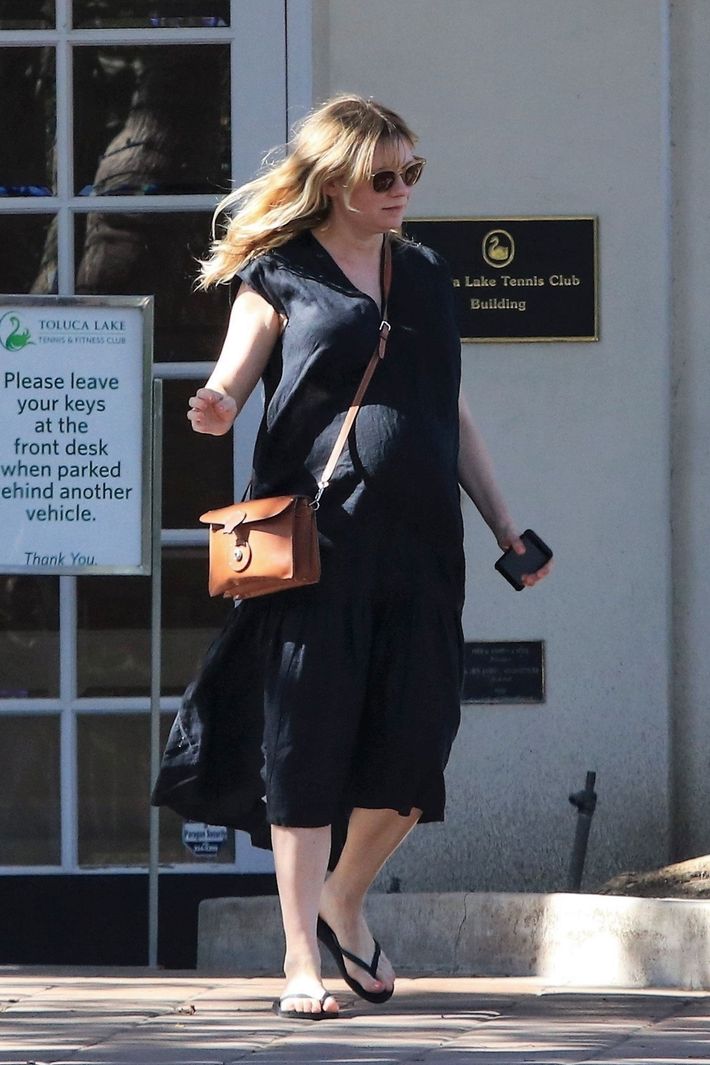 Kirsten Dunst, meanwhile, is still pregnant with Landry's baby. She was photographed wearing a very cute maternity dress in Toluca Lake yesterday.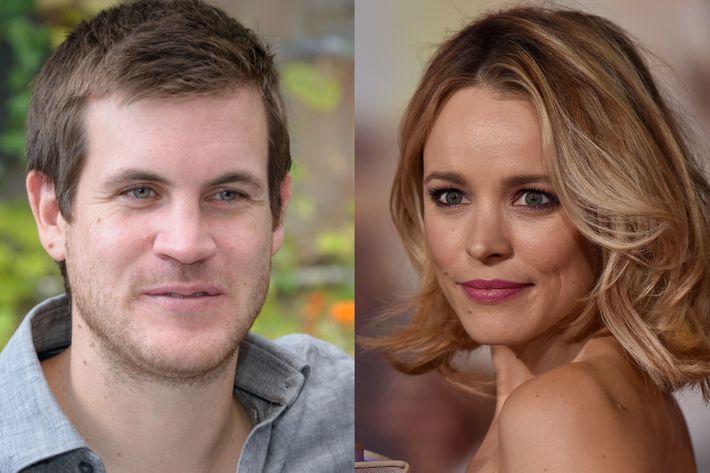 And Rachel McAdams reportedly had a baby and didn't tell anybody about it. E! News reported earlier this week that she recently gave birth to a baby boy with her screenwriter boyfriend Jamie Linden. McAdams and Linden have been dating since 2016, but they have never appeared on the red carpet together or courted any kind of paparazzi attention.
Chris Pine, one of America's top Chrises, is officially dating the British actress Annabelle Wallis. We last heard about Wallis in 2015, when she was dating Chris Martin (a top Chris in England). Pine and Wallis were spotted together in Heathrow Airport over Easter (Pine was wearing overalls), and last week, they attended a dinner party in Malibu together.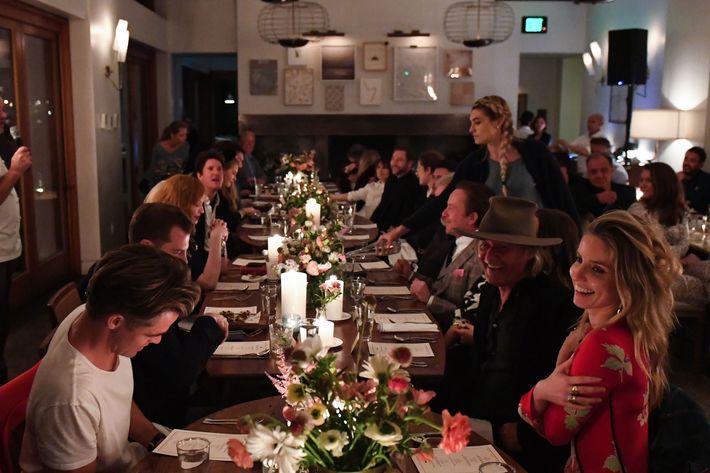 According to a source that talked to People, "Chris and Annabelle sat across from each other at dinner. It was pretty evident that they are a couple. They were very comfortable together."
According to the photo above, Pine checked his phone under the table at least once.
This all seems fine to me.
One small blessing from this week:
Brad Pitt went to a baseball game by himself.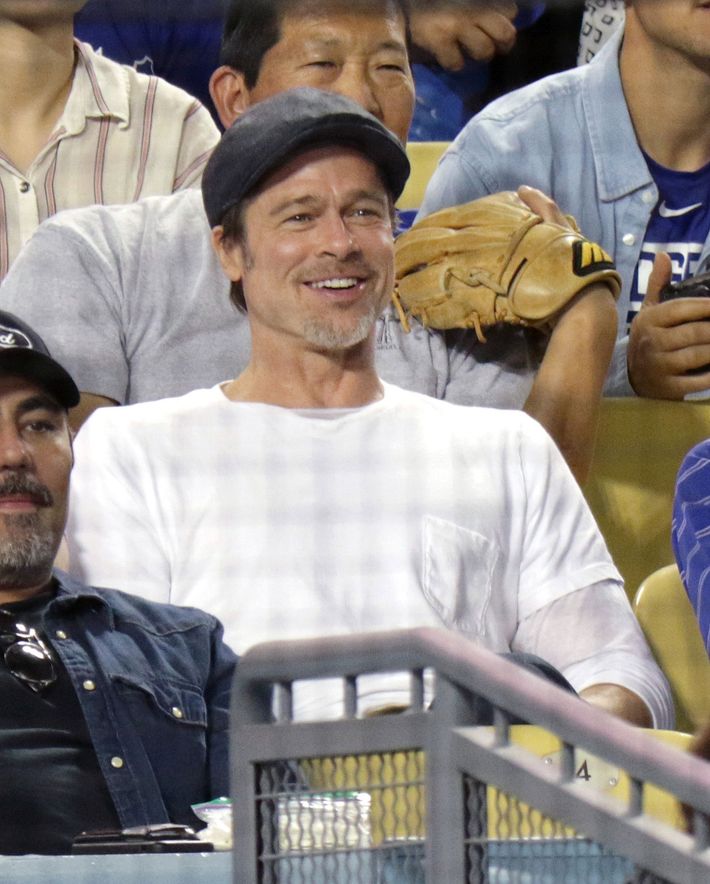 Finally, I'll leave you with the devastating news that one of Gen Z's most enduring romances has ended. Brooklyn Beckham, son of Beckham, and Chloë Grace Moretz, Neighbors 2 actress, have broken up. Beckham was spotted earlier this week K-I-S-S-I-N-G a 20-year-old model named Lexi Wood. And Moretz was photographed a couple days later, and she wasn't wearing her beloved 'B' initial ring. (B is for Brooklyn or Beckham or both.)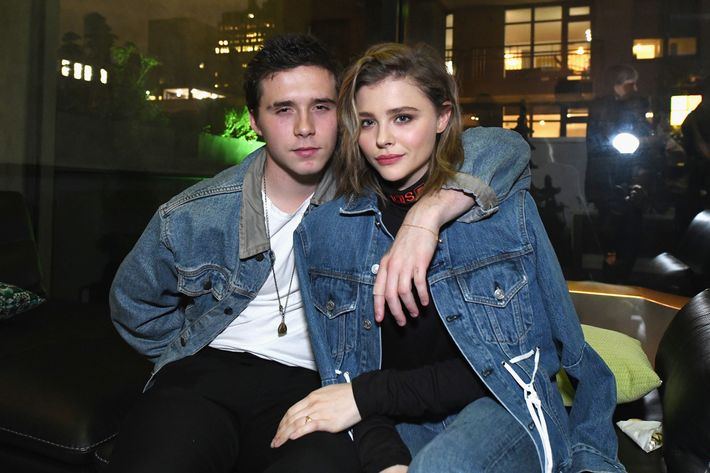 Thanks so much for gossiping this week! If you'd like to get this column in your inbox every week, subscribe in the box above. And don't forget to email me at allie.jones@nymag.com, send me a message on Twitter, or contact me on Signal, if you'd like to chat.