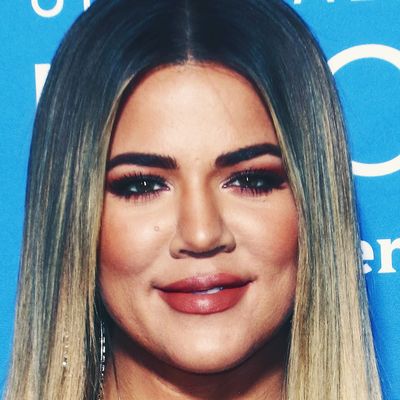 Khloé Kardashian.
Photo: Jim Spellman/WireImage
This week, news broke that Khloé Kardashian's boyfriend (and father of her soon-to-be born baby girl, which could literally arrive any minute now) Tristan Thompson has repeatedly cheated on her throughout her pregnancy. So, the Kardashian-Jenner klan is rushing to her side in Cleveland — where she's stuck until she gives birth.
Khloé has been living in Ohio as she awaits the birth of her child with Thompson, who plays for the Cleveland Cavaliers basketball team. As the 9-months-pregnant reality star is expected to go into labor imminently, it had already been reported that her mom, Kris Jenner, and sisters Kim, Kourtney, Kylie, and Kendall were planning on flying to Cleveland to be there to welcome the new baby into the family. But now, it seems like their travel plans have sped up.
According to People, Kris has already flown to Cleveland to be with her, even though Khloé would rather rather be in Calabasas. "It makes sense that Khloé would rather be in L.A. with her immediate family all around her — that's her real home," a source told People. "Cleveland isn't her home now, no matter how hard she tries. But she physically can't leave, which is also why the timing of this is just so awful; she can't escape."
TMZ notes that Kim and other family members are planning on flying in on Thursday. Given that TMZ is also reporting that Khloé is experiencing early contractions, it sounds like they might just make it in the nick of time.