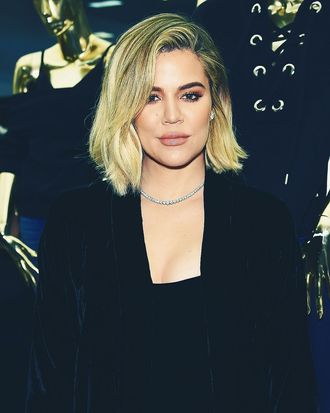 Khloé Kardashian.
Photo: Jamie McCarthy/Getty Images fro Good American
As is often the case with moms, Kris Jenner can't stop talking about her new granddaughter. She was the first Kardashian-Jenner to react to Khloé Kardashian giving birth last week, and after the latter announced earlier today that she was naming her baby girl "True," Jenner kindly let us in on the meaning behind the name.
According to her Twitter, the name True runs in the family — it's not just an ironic name choice.
"I'm so excited to welcome my precious little granddaughter True!!! FUN FACT… my Grandfather's name on my Dad's side was True Otis Houghton….my real Dad's name was Robert True Houghton…so i am so excited Khloe named her daughter True!!! #lovebug #familytradition #family," Jenner tweeted.
Just one outstanding question: Did Kardashian and Tristan Thompson pick this name before or after the initial reports that the latter is a lying, untrue cheater?