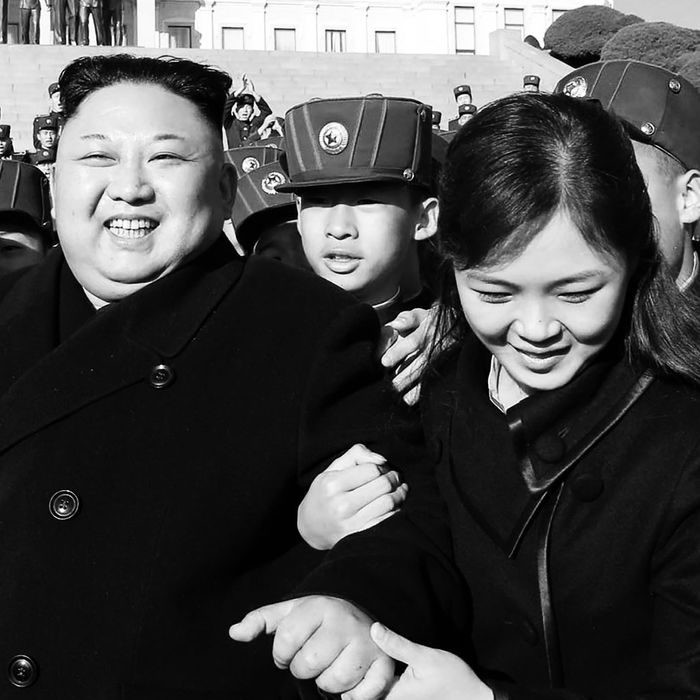 Kim Jong-un and Ri Sol-ju.
Photo: STR/AFP/Getty Images
North Korean leader Kim Jong-un's wife is no longer just another comrade — she's a "Respected Lady."
According to NK News, it appears that Ri Sol-ju has received a rare status upgrade, in a bid to generate a personality cult around her. While a cult of personality, marked by total loyalty to the honorable people, has existed since the 1940s around men in the Kim family — former leaders Kim Il-sung and Kim Jong-il, and Kim Jong-un — Kim wives don't necessarily get the same title.
Reports started to swirl that Ri Sol-ju got the update when state newspaper Rodong Sinmun referred to her as "Respected Madame Ri Sol Ju," using an honorific verb ending — just a month ago, state media would not go out of its way to praise her. She was also "warmly greeted" at the ballet she attended this weekend, which further indicates that she's getting her own personality cult.
Congratulations to Ri Sol-ju, who finally gets to join the small cohort of Respected ladies, which includes the now-deceased Kim Song-ae ("Respected Chairwoman") and Ko Yong Hui ("Respected Mother"). Hopefully for her, she doesn't lose the honor.