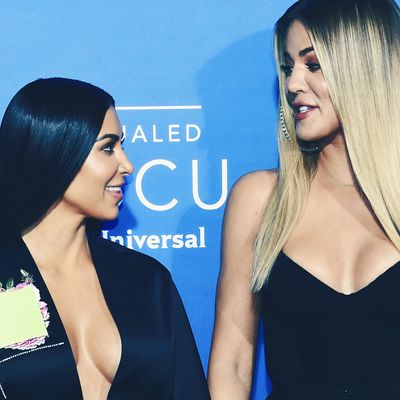 Kim and Khloé Kardashian.
Photo: Invision/AP/REX/Shutterstock
Khloé Kardashian may have given birth to her baby girl amid major drama (ugh, thanks a lot Tristan Thompson), but at least she had the support of her family in the hospital delivery room … quite literally.
On Friday morning, her sister Kim Kardashian West tweeted that held up Khloé's leg while she pushed during her labor at Hilcrest Hospital. Kim had flown to Cleveland, along with Kourtney Kardashian and Kris Jenner, to be with her sister while she delivered her first baby (and coped with Thompson's cheating scandal).
"I'm so happy for you! Your baby girl is so beautiful! You are so strong, you made that look easy," Kim's tweet begins.
Kim, who recently welcomed her third child (a baby girl named Chicago), continued, "I can't wait for our baby girls to grow up as best friends the way we are! I'm so happy I was able to return the favor of holding your leg while you pushed LOL." It's unclear whether the "LOL" that Kim is laughing out loud as the leg comment was a joke, or whether she's laughing out loud at the memory of holding up her sister's leg as she pushed a baby out of her.
But either way, Kim and Kourtney were photographed boarding a private jet out of Cleveland on Thursday afternoon, shortly after the birth, presumably to return home to Calabasas. If Kim really did physically prop up Khloé's leg during labor, we're sure the sisters were LOL-ing about it — and gushing over the cute new baby — the whole flight back.