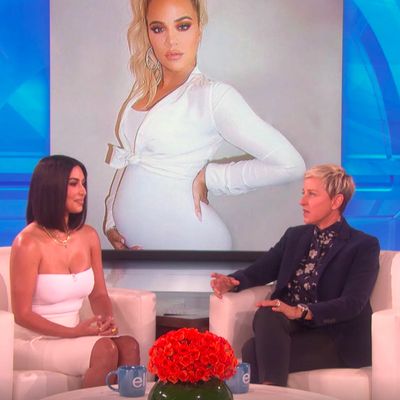 Kim Kardashian West on Ellen.
Even though it feels like the Tristan Thompson/Khloé Kardashian cheating drama went down decades ago at this point, it's really only been a few short weeks since we learned that Thompson repeatedly cheated on the mother to his newest child throughout her pregnancy. Ugh. And during a Monday appearance on Ellen, Khloé's big sister Kim Kardashian West finally said what we've all been thinking about the whole ordeal: "It's so fucked up."
In a clip that appeared online before the episode, host Ellen Degeneres says to Kim, "Poor Khloé," which the reality star (and probably also everyone in the whole world) then repeats in agreement. Degeneres continues, "I think everybody was heartbroken for her. Literally days before she gives birth, her boyfriend is seen on video cheating. So you … you have opinions about that?"
Kim replies, "I don't even know how to describe it besides, 'It's just so fucked up.'" Well … the "fucked" part was bleeped, but we knew what she meant and couldn't say it better ourselves. She also later added that the situation was "messed up."
"I feel like Khloé always like dives into relationships and puts her whole heart into everything. I mean, she moved there, and I've seen her be in a really tough situation before in her last relationship," Kim continued. "And so I think just the family gets so emotionally invested in whoever each other is with. We treat them like family. We give them our whole soul … so we really were rooting for Khloé, and we still are. She's so strong and she's doing the best that she can. It's a really sad situation all over."
Last we heard, Khloé had been planning on leaving Cleveland (where she gave birth to her daughter, True) as soon as she was able to fly, so that she could go back home to Calabasas. But the new mom has reportedly been struggling with whether to actually leave Thompson despite his disrespectful behavior. Kim told Degeneres that Khloé is just focusing on spending time alone with the baby for now.
Kim also said that she made a rule with her brother Rob (presumably over his strained relationship with his ex Blac Chyna) that if there's a baby involved, she won't say anything too bad about the other person. "So I can just be supportive for Khloé," she explained. "You know, she's just really focused on the baby. She's an amazing mom already. In the few days that she's been a mom, she's the best mom."