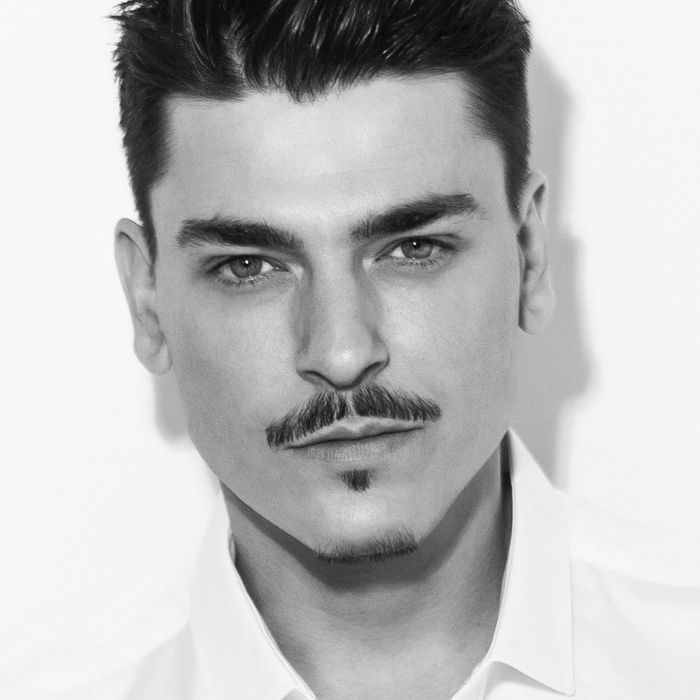 If 2015 was the year of contouring fever, then Mario Dedivanovic was patient zero. The makeup artist didn't invent the shading and highlighting technique, but his most famous client, Kim Kardashian West, made it a household name. Dedivanovic started working for Kardashian West in 2008, and in the past decade the two forged a distinct and often emulated makeup aesthetic (think: rounded eyebrows, nude lipstick, sculpted cheeks).
Earlier this year, Dedivanovic and Kardashian West collaborated on a makeup palette that introduced lots of color. Suddenly, vibrant blue eyeshadow was everywhere. The Cut talked with Dedivanovic about the colorful trend, underrated beauty tools, and the oil he uses to shrink pimples overnight.
What do you see as the most exciting trend in makeup right now?
The blue that I'm seeing all over my Instagram timeline is so exciting. Blue has always been a color that you make fun of or feel like you could never use, so seeing people experimenting with it after the collab I did with Kim is so exciting. I love the burst of color. And not just blue; I've noticed how so many people are experimenting with more color in general. Even my sister!. She saw some of my PR packages the other day and asked if she should try a tube of pink lipstick, even though she normally wouldn't wear it. And you know what? She liked it. Color is having this kind of effect on everyone and it's refreshing to see so many people start to play with it.
What advice would you give to a person who is nervous to try blue makeup?
Rather than applying blue all over your eyes, try a blue liner. Do a simple line in deep blue on the upper lashline, where you would normally do a black or a brown. It's flattering on all skin tones.
What's a really underrated makeup product?
A lash separator. No one really uses those and it's one of the most important tools in my kit. After I curl the lashes, I always use a lash separator — I can't do a lash without one. It makes lashes so pretty and symmetrical. Mascara tends to make lashes a little clumpy, but a lash separator really gives lashes that oomph. I have a tiny plastic one that I just got from Japan that I use for lower lashes, but they usually come in metal.
Can you tell me about your skin-care routine?
Unless I'm dealing with a breakout or something, my routine is very simple. I typically wash with a Neutrogena cleanser. I don't exfoliate all the time — I know I should, but I don't because I get lazy. Sometimes I'll use an exfoliating wipe or an exfoliating pad; I'm not that fancy. It's crazy because I get sent the most luxurious products in the world, but I'll use Eucerin or CeraVe to moisturize. I don't like too many fragrances, so I gravitate towards drugstore products. I do have the St. Ives scrub in my shower. I also use Philosophy's new mask, but I'm not that consistent with any routine.
What's your favorite quick way to shrink a pimple?
You know that guy in My Big Fat Greek Wedding who used Windex for everything? My Windex is tea tree oil. Anytime I have any sort of blemish, I just put tea tree oil on it. I'm convinced that it cures anything. I tend to get breakouts around my nose because my skin gets oily in that area. So I'll put some on my nose, and it stops the pimple before it gets big. I also mix some with my brush cleanser to clean my brushes. Any brand from the drugstore works; I probably have 20 different bottles all over the place.
What holistic elements should people take into account for great skin?
Obviously drink a lot of water and get a good night's rest, but then take vitamins as well. I take Olly's Vibrant Skin vitamin [Ed. note: Dedivanovic is a spokesperson for Olly], which has hyaluronic acid and collagen in it. They also taste amazing; they come in a berry flavor. Their Undeniable Beauty vitamin is for hair, skin, and nails and also great. That one has vitamin C, E, and biotin in it. All of these little things help.
Lastly, you have a huge following on Instagram but what are your favorite accounts to follow on there for beauty inspiration?
I get the most inspiration from interior design accounts. Beautiful rooms and gardens really spark my inspiration and bring it to life. I'm obsessed with Ryan Korban, who is an interior designer, and Architectural Digest. I love all types of artists and all types of beauty, so everything from the fashion elite like Peter Philips, to every influencer. I love influencers, I love their looks, what they do … I think it's fun. I even enjoy the silly trends everyone talks about, like the crazy brows. It's so entertaining for me to look at.
This interview has been edited and condensed.