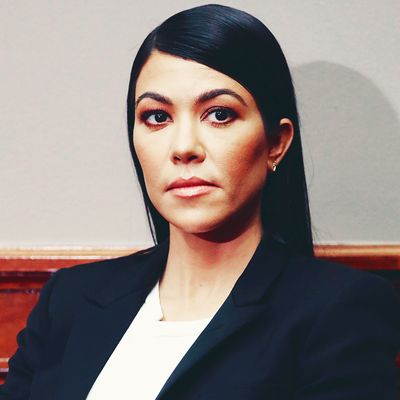 Kourtney Kardashian.
Photo: Paul Morigi/Getty Images
Today, hours before sisters Kourtney Kardashian and Kylie Jenner released their hotly anticipated makeup collaboration, the elder sister sat in a committee room on Capitol Hill and advocated for stricter makeup laws. She arrived with Ken Cook, president of the consumer protection and advocacy organization Environmental Working Group (EWG). If you're thinking that she was there just to pay lip service, think again. According to her, it was she who reached out to the organization and not the other way around.
Kourtney was there to discuss the Personal Care Products Safety Act. The bill authored by Senators Dianne Feinstein and Susan Collins hopes to extend the Food and Drug Administration's (FDA) oversight power within the cosmetics industry. Right now and unbeknownst to most outside of the beauty industry, the FDA can exercise very little control over the manufacture and sale of cosmetics. For example, beauty companies aren't required to share product ingredients list with the FDA. Furthermore, the FDA lacks the authority to recall faulty or harmful cosmetics from the market. As Kourtney and cosmetics-reform proponents noted, it's been more than 80 years since Congress passed any sort of cosmetics legislation.
"It would be nice if there were laws to regulate so that the people running these businesses can have some standards of what to use," Kourtney explained on Tuesday. "The fact that we have to guess so much, even going into a store to buy anything … you shouldn't walk around aimlessly wondering, 'Is this okay? Is not that okay?' Everybody should have the right to healthy products in personal care."
Kourtney, who is rumored to be launching a beauty line of her own, is well-versed in the language of cosmetics. Her personal approach to makeup and skin care reads like a page out of Goop: she avoids paraben-laden deodorant, she favors organic products, down to her Q-tips, and she cites Amanda Chantal Bacon's homemade beauty tonic as the secret sauce to great skin. She even uses EWG's app to source new beauty products. EWG's Skin Deep app rates beauty products by examining their ingredients. Verboten substances like phthalates, fragrances, and parabens will negatively affect the product's overall score on the app.
In a rare instance of bipartisanship, cosmetics reform is supported by both sides of the Congressional aisle. Big beauty has warmed to it too. Companies like L'Oréal, Estée Lauder, Johnson & Johnson, Unilever, Procter & Gamble, and Revlon have already pledged their support. These companies appear thrilled by the weight of Kardashian support. Beauty Counter CEO Gregg Renfrew said in a statement, "We applaud Kourtney Kardashian as she joined our fight on Capitol Hill today. We need more people who are willing to lend their voices to the better beauty movement in order to get credible, meaningful reform across the finish line."
Though many might argue the lack of legislative action in the past 80 years points to a larger women's issue at play (in a survey conducted by EWG, women use twice as many cosmetics on a daily basis as men), Kourtney doesn't necessarily see it that way. "That's interesting," she said when specifically asked.
Kourtney explained that she traveled to D.C. to make cosmetics reform a "bigger deal." And to that end, a job well done; after all, there are no small deals when it comes to the Kardashians. Just try to keep up.