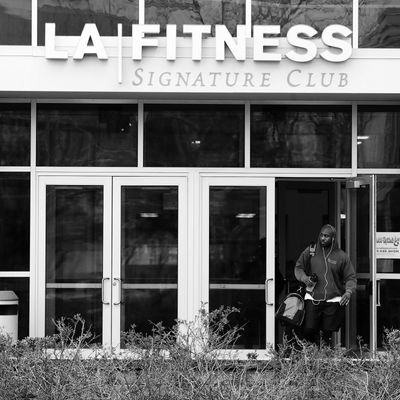 Photo: Julio Cortez/AP/REX/Shutterstock
Two black men went to work out at LA Fitness in Secaucus, New Jersey, Sunday night and were asked to leave by the cops. Allegedly, gym employees dialed 911 over a membership mishap.
On Monday, one of the men asked to leave, Tshyrad Oates, posted about what happened to him and a friend, who's remained unnamed, on Facebook. According to Oates, he signed in with a four-day guest pass and within half an hour the employee who signed him in told him to pay or leave because his friend had a balance. Five police officers were then called to the gym.
In videos Oates posted on Facebook his friend is heard saying he's been a member for eight years.
After explaining what had happened and rescanning the membership in question (which was still active), Oates and his friend were again asked to leave. The manager finally told Oates he was banned from the gym and his friend's membership was terminated. Oates and his friend cooperated with police, who also asked them to exit, and were not forcibly taken off the property.
Jill Greuling, the executive vice-president of operations at Fitness International, which oversees LA Fitness, told the AP via e-mail, the staff member who checked Oates's friend in was "confused and thought the member was a guest," and wasn't aware he had logged in earlier before she started her shift. Another Fitness International spokesperson said the three employees involved in Oates's incident no longer work with LA Fitness, but it is unclear if they were fired.
''Regrettably, from there our staff unnecessarily escalated the situation and called the police rather than work through it,'' Greuling added.
The local police spokesperson said they're usually not called over people refusing to pay their gym bill but a chief confirmed it's happened before. ''I don't think there's anything in the report indicating any racial-type gestures or anything like that,'' said Captain Dennis Miller, who was not on the scene Sunday.
This incident occurred only three days after Starbucks arrests in Philadelphia last week sparked national outrage over racial discrimination in commercial spaces.