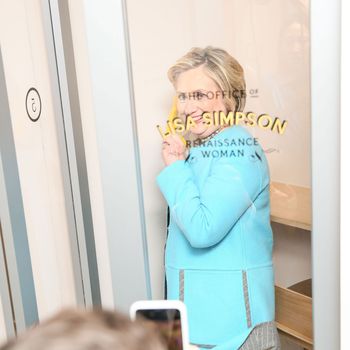 Photo: Angela Pham/BFA/REX/Shutterstock
Hillary Clinton may not be in The West Wing, but she's definitely got an honorary lifetime Wing membership, and the latter has free Glossier products. Last night, at the Soho location of The Wing — the luxe, millennial-pink-tinted club for women — co-founder Audrey Gelman and Call Your Girlfriend host Aminatou Sow interviewed the former presidential candidate and "newest member of our coven," in front of an audience of 400 cheering, kvelling, sometimes teary-eyed Wing women.
"What do you consider to be your legacy?" asked Gelman, wearing an elegant cropped gray pantsuit. "And before you answer, I just want to say, this is part of your legacy." The audience broke out into exhilarated claps and whoops. "I think that literally every woman in this room who does any small act of courage during the day, like asks for a raise, or demands to live her life on her own terms, is part of your legacy, and I know we all thank you for that. I'm curious for your answer."
"I don't want to mess that up!" Clinton replied. "That was pretty great."
Gelman launched The Wing as an all-women's co-working and networking hub back in late 2016, just a few weeks before the presidential election. One of The Wing's inaugural events was a festive Election Night party (attended by about 80 women) in anticipation of a Clinton victory. That night, of course, didn't go as planned.
"We were so excited to get to open in Washington, D.C., under the presidency of Hillary Clinton, and it has taken such a different turn than anyone expected," recalled Gelman. She had long been a diehard Hillary supporter, who worked as a press aide on Clinton's 2008 campaign, and whose mom had photos of HRC and other female luminaries on an "inspiration" wall in her closet.
Since Trump's victory, The Wing has grown exponentially — it opened two more locations in New York and has just announced plans to open six more, in London, Toronto, Williamsburg, L.A., San Francisco, and Seattle — and has remained a hub of political activity. In the past year, it has served simultaneously a home base for marches and rallies and political speakers, as well as a beautifully appointed chill-space where you can learn about floral arranging or catch an advance screening of the new Jennifer Lawrence movie. "I was always really into politics, but I never really wanted to foist that on members," Gelman told me. "What we've seen is just an unbelievable amount of hunger for ways to get more politically involved."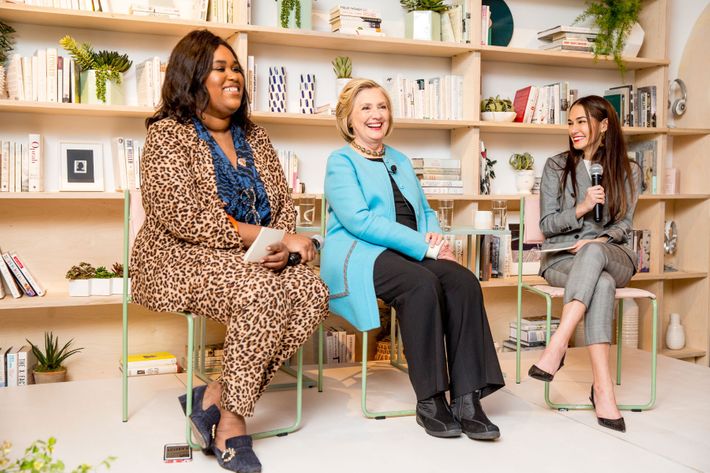 Before the event started, well-dressed young women with glasses of rosé mingled to a playlist of Shania Twain, Alanis Morrissette, Janet Jackson, and Macy Gray. Various Wing VIPs wore colorful pantsuits of red and blue and saffron, a visual echo of the perfectly organized color-blocked bookshelves that framed the room.
I spoke to founding member Payton Turner, an artist and the co-owner of Flat Vernacular, who designed the Wing's custom wallpaper in collaboration with illustrator Joana Avillez. "Hillary Clinton is the woman, and she's our president," Turner said emphatically.
Ariel Farmer, an interior designer, and Allie Lake, who works at an ad-tech start-up, met through a mutual friend — but, they said, The Wing is what made them close. "I love Hillary Clinton!" Lake exclaimed, when I asked her what brought them here. "Even just aside from politics, just everything she's done; she's been like a spearhead in a male-dominated political climate," Farmer added.
"I would listen to Hillary talk about literally anything," Lake continued. "I hope it is a pretty well-rounded conversation, more than just politics. I hope we get to know, like, what her morning routine is."
Clinton, however, remained pretty on-message throughout her hour-plus speech. She covered subjects that will be familiar to anyone who has read her book What Happened, like the various perceived causes of her defeat, including James Comey, Russian meddling, WikiLeaks, and the blight of fake news. She dinged Trump and Putin and encouraged listeners to vote in the midterms. Yet she also seemed lighter and more loose that I had previously seen her, delivering wry asides that sent the room frequently into peals of laughter. "Fox News is always trying to impeach me, so somebody needs to tell them, that doesn't apply to a private citizen," she riffed at one point. In a space filled with handmade ceramics and devoted fans (who sat beneath a literal glass ceiling), she seemed to be enjoying the kind of civil and receptive town-hall meeting she never got to have during the campaign. Asked what was "giving her hope right now," she raised an eyebrow and deadpanned, "Oh boyyy," which was met with appreciative laughs.
Clinton concluded her remarks by saying that she hopes her legacy is to inspire young women. "I want to see more young women supported in places like The Wing, and in their workplaces and in their families and in the political arena," she said. "It is clear to me that we've made an enormous amount of progress, but there is a backlash, and the backlash cannot be permitted to undermine individual women or women's progress going forward." She got a standing ovation.
Not everyone in attendance was a diehard Hillary supporter. Sheena Demby, a wholesale operations manager at Shinola, gave me a skeptical look when I asked what she thought of Clinton's speech after it ended. "At the end of the day, I really just want her to keep it funky, like, Tell me the truth, give me all the juice, tell me all the details," Demby said. "At the end of the day, you're walking in to a room of at least 200 women that are like, Girl, no matter what you say, we got you."
As for The Wing itself, Demby couldn't have more positive things to say. "It's incredible. I mean, I could say 50 million great things about it, but more so than anything, I've just found connectivity," she told me. "I get to have these conversations with different women on any given day; so many of them experience the things I experience. So many of them don't! It's an opportunity to see a multitude of perspectives. Which ultimately is going to make me grow as a woman."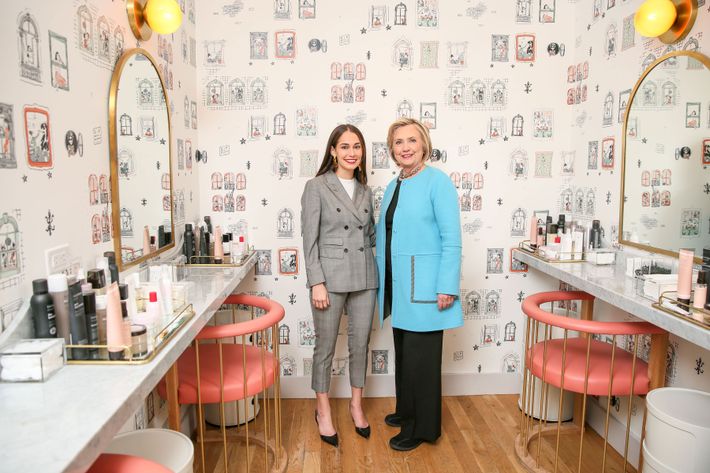 Indeed, everyone I spoke to said The Wing had been an essential community for them throughout the past year. Chloe Jones, a graphic designer and photographer in overalls, with her pink hair in a top-knot, describes herself as not being super politically active, but said she came tonight to show solidarity. "I think what brought me here in the rain knowing there was going to be a huge line was just the showing-up factor and wanting to be another body in the room, because I believe in The Wing and I believe in the fact that it's being recognized by really important people around the country. This feels historically significant to me."
On the subject of The Wing's own recent woes — an investigation by the New York City Human Rights Commission into whether the organization's women-only policy breaks anti-discrimination laws — many of the members evinced frustration. "Everybody's just kind of like, this is fucking ridiculous," said Turner.
Gelman, for her part, was calm. "We had a man here tonight — we had a couple, I think. It's totally fine. Much ado about nothing."
On my way out, I ran into Natalie Coppa, an analyst for a private equity fund, in the beauty room. She'd just had a shower and was in the midst of slathering herself in Glossier priming moisturizer. "I just took a shower! And they have all the products I use at home so I was like, why not, right?" she laughed. Coppa is a longtime member who was here for The Wing's Election Night party, and said the mood of that event and this one were like night and day. "Gosh, that night was crazy. Audrey knows everything about politics so it was awesome to see her in her element in the space that she built. She was so excited, she was like I know Hillary because she's been in this space for so long, and she was ready to watch her become president, and then it was kind of demoralizing."
In Coppa's experience, The Wing has become an incredible unifying force in the wake of the election. She tells me that one of the friends she met there recently went to Albany to testify in court about her rape kit being destroyed. "I think being part of this space and having these women backing her up up really drove her to testify," she said.
Coppa's roommate Emma Holland, who runs programming for The Wing, joined our conversation. "I think that it's just sort of like, we thought we were going to be important and relevant for one reason, and we ended up being completely the other side of it."
As I left, The Wing staff were gathered in the front room in a circle, and Gelman was doing a "Gangnam Style"–esque galloping lasso dance to D4L's "Laffy Taffy." Based on her Instagram Stories later, it was clear the festivities had continued long into the night. "The Wing staff just broke into an impromptu dance party," she wrote across a video of Wing staffers bopping jubilantly to Usher, underneath the soaring glass skylight.