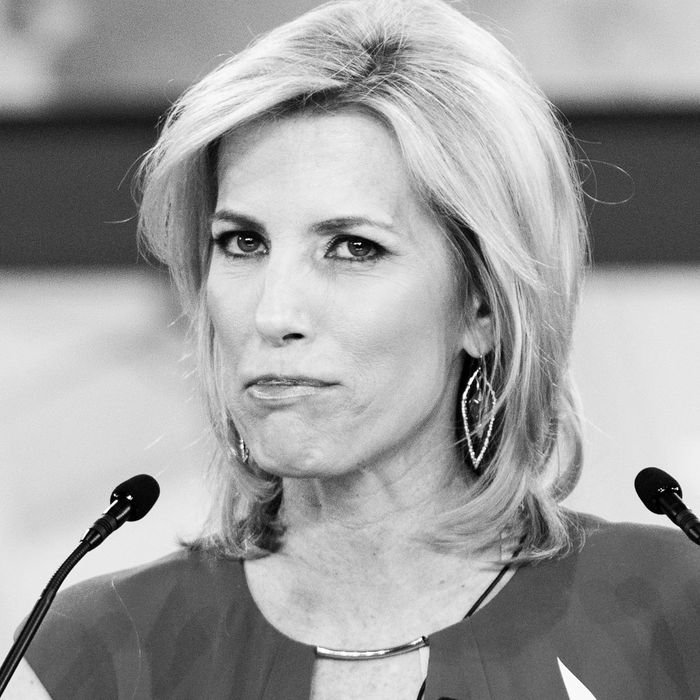 Laura Ingraham.
Photo: Michael Brochstein/SOPA Images/LightRocket via Getty Images
Just days after 17-year-old Parkland-shooting survivor David Hogg spoke in front of tens of thousands of people at the March for Our Lives in Washington, D.C. last month, Fox News host and adult woman Laura Ingraham mocked the high-school senior for being rejected from multiple colleges. Now, Ingraham and her show are paying dearly for her jab.
Although Ingraham tweeted an apology the next day "in the spirit of Holy Week," it was already too late. Hogg told the New York Times he was unimpressed by her apology ("She only apologized after we went after her advertisers. It kind of speaks for itself"), and called on his followers to urge the show's sponsors to drop the show. Over a dozen companies have pulled their ads so far, and the latest, Ace Hardware, told the Wrap on Thursday that it does not "have any plans to nationally advertise on Ingraham's show in the future."
A TripAdvisor spokesperson told the Times the company did not "condone the inappropriate comments made by this broadcaster," and that "In our view, these statements focused on a high school student cross the line of decency." Rachel Ray's dog food company, Nutrish, also said it was in the process of removing its ads from The Ingraham Angle, and that the host's comments were "not consistent with how we feel people should be treated."
Here is a list of all the companies that have pulled their advertising from Ingraham's show so far, or do not plan to buy ads on the show in the future:
Nutrish
TripAdvisor
Wayfair
Expedia
Hulu
Johnson & Johnson
Nestle
Atlantis Resort
Liberty Mutual
Jenny Craig
Jos. A. Bank
Stitch Fix
Office Depot
Miracle-Ear
Principal Financial Group
Honda
Ruby Tuesday
Ace Hardware
Entertainment Studios
Bayer AG
Mitsubishi
Blue Apron
SlimFast
And most recently…
Red Lobster
Car maker Subaru also told the Daily Beast that "they are unaware of having advertised during The Ingraham Angle and are looking into the matter."
While her show is losing advertisers fast, The Ingraham Angle has one outspoken advocate: Mike Lindell, inventor of the MyPillow.
This post has been updated to reflect the latest companies who have pulled their ads from The Ingraham Angle.