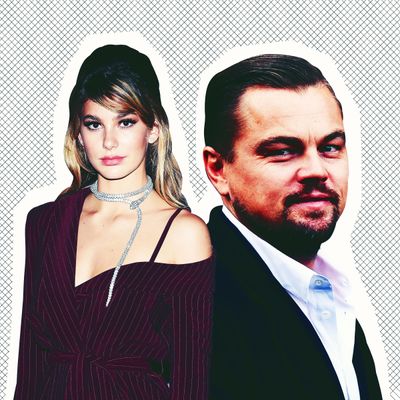 Camila Morrone and Leonardo DiCaprio.
Photo: Getty Images
Leonardo DiCaprio, 43, may have won an Oscar for his role in the 2015 film The Revenant, but not everyone was "impressed" by the movie. Specifically I mean, his latest 20-year-old model-slash-actress girlfriend, Camila Morrone, thought it was "overly hyped."
"Page Six" unearthed Morrone's 2015 review of The Revenant, which I believe is about a wilderness bear attack, and maybe also revenge and/or parenting, but I did not see it. Anyway, the review appears on Morrone's lifestyle blog (of course), and she starts out complimenting Leo in general, only to share her not-so-positive thoughts on the film:
I had been dying to watch The Revenant ever since the trailer came out a few months ago. I'm a huge Leo and Tom Hardy fan. The first time I noticed Tom Hardy's acting was in Mad Max. I know, pathetic. Revenant was overly hyped up, and by the time I saw it, I wasn't too impressed. Maybe it throws your judgement off when people speak so highly about it something.
But Morrone also wrote that she thought Leo and Tom Hardy's "acting was beyond amazing" in the film. "This may be the year Leonardo DiCaprio finally wins an Oscar!," she accurately predicted. Romantic!