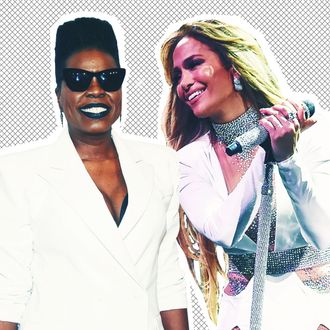 L.Jo. and J.Lo.
Photo: Getty Images
She single-handedly made New York Fashion Week fun again. She had the time of her life in Pyeongchang. On Tuesday night at the Time 100 gala, living legend Leslie Jones, a.k.a., L.Jo., found herself front row at her own private concert with Jennifer Lopez. Well, sort of private. But there was no telling super-fan Jones any different.
At the gala, J.Lo., one of the night's honorees, closed out the evening with a glittering performance of her greatest hits. Jones, who recently attended — and danced backstage at — one of J.Lo's Las Vegas performances, screamed, "Oh my god! Oh my god! You are so — You are so — J.Lo.! J.Lo.! J.Lo.!" throughout her performance.
In the video below, you can spot Leslie on the left, arms outstretched, paying tribute to Grace Jones in her custom crisp, white Christian Siriano dress and black shades.
And watch for the moment below at about 30 seconds, where Jones just about loses it after J.Lo.'s sparkly wardrobe reveal. "You know this works really good when I'm on tour in Vegas. But, right now in this room, I feel like I'm naked in your bedroom," Lopez said to the crowd about her barely-there glittery catsuit.