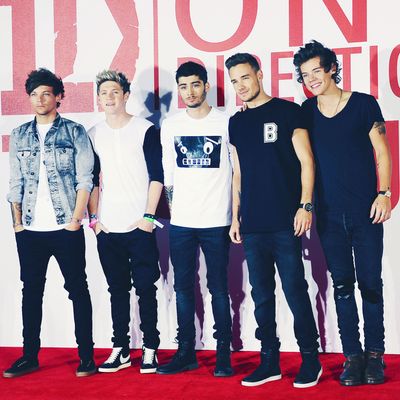 Your boys, together again?
Photo: Stuart C. Wilson/Getty Images
Deciding what to spend an eyelash-wish on can be a challenge. Clear skin? World peace? A sale on products that may lead to clear skin — or world peace? Those whose job it is to choose which eyelash-wishes to grant and which to decline (ghosts on earth) understand the difficulty. Because of this, it is with great pleasure that I can inform you that they — because of your selflessness — have chosen to "grant" your wish for a One Direction reunion. (Maybe.) (At an indeterminate point in the distant future.) (Possibly without Zayn.)
Yay!
Former One Direction member Liam Payne spoke to German outlet Promiflash about the potential reunion, saying, "Ich denke, es passiert irgendwann in absehbarer Zukunft. Wir haben schon darüber gesprochen." Ya? Ah, es tut mir leid, ha-ha, he said:
"I think it will happen at some point in the distant future. We've all spoken about it."
Payne says the members split to work on their solo careers, and now that they've done so, it's not out of the question that they'd join together again as One Direction. Wonderful.
It is not clear, however, whether this potential reunion in the distant future would include fan-favorite Zayn Malik, who quit the group in 2015 before One Direction consciously uncoupled, and who then dated Gigi Hadid, and who then broke up with Gigi Hadid. But you do have several eyelashes left.