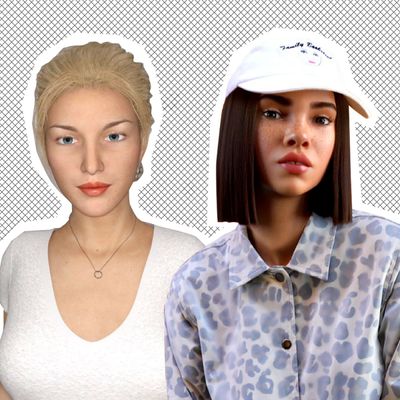 Bermuda and Lil Miquela.
Photo: lilmiquela/Instagram/bermudaisbae/Instagram
If you need any further proof that we're living in The Matrix, here it is.
On Tuesday, the Instagram account of Miquela Sousa — also known as @LilMiquela, a 19-year-old Brazilian-American model, singer, and Instagram personality with almost a million followers — appeared to have been hacked by a blonde, pro-Trump troll named Bermuda, or @BermudaIsBae. Over the course of about eight hours, Bermuda wiped Lil Miquela's account clean, posting photos of herself instead with threatening captions like: "You can't have your account back until you promise to tell people the truth."
But wait, it gets wilder: Neither Lil Miquela nor Bermuda are real people. They're computer-generated avatars with anonymous creators.
Drama is drama, though! And the best gossip is the kind that has zero consequences on real peoples' lives. Except our lives, of course, which have been turned completely up-side down by the Orwellian antics that transpired on Tuesday. If you have a lot of questions, you are not alone. So do we.
Below, everything we know. (So far.)
Okay, who is Lil Miquela?
According to various (vague) interviews she's done, Lil Miquela is a 19-year-old Brazilian-American model and singer from Los Angeles, California, who goes by the name of Miquela Sousa. She created her Instagram account on April 22, 2016 and has since amassed almost one million followers. She's also active on Twitter and Tumblr, plus she has two singles on Spotify.
But she's not real, right?
No. It's been speculated that she's a composite of a real woman and digital renderings, which would explain her uncanny human likeness. She also poses with real people, in real-life places, wearing real-life clothes off the rack. The Cut has heard from anonymous sources close to Lil Miquela that there is at least one real-life human woman involved in her content creation, as well as one real-life human man. [Gasp!] But the exact size of her team and their roles have not been confirmed.
Why is she considered an influencer?
Lil Miquela often posts photos of herself wearing high-fashion brands like Chanel, Proenza Schouler, Supreme, and Vetements. She's also shouted out beauty brands like Ouai for keeping her hair "silky smooth," despite the fact that her hair is digitally rendered. Fashion magazines including King Kong, V, and Paper, have all photographed her, and she now has her own press agents, who coordinate photo shoots as well as the gifting/borrowing of designer clothes. (We confirmed this with a designer she's been photographed wearing.) In February, Prada invited Lil Miquela to take over the brand's Instagram account during its fall 2018 show in Milan.
And who is this Bermuda chick?
Named after the Bermuda Triangle (nice), Bermuda's Instagram account was born about six months after Lil Miquela's on September 5, 2016. On Tuesday morning, she had around 2,000 followers, but by nightfall she was up to almost 50,000. Judging by her looks and the content of her posts, Bermuda's muses are the singer Iggy Azalea and conservative political commentator Tomi Lahren. It's no secret that Bermuda is also a hard-core Trump supporter, as she posted a photo of his merch as her ideal brunch look. Bermuda also mocks "liberal feminists" like Lena Dunham and writes that she's "proud to be a white woman."
She's not real either?
No. When Bermuda started posting on Lil Miquela's account, she claimed that they were both created by a "literal genius" named Daniel Cain, founder of Cain Intelligence. However, neither Mr. Cain nor Cain Intelligence are real. At least in the reality we live in.
Why does Bermuda have beef with Lil Miquela?
Their beef seems to have begun around August 31, 2017 when Bermuda posted a photo with the caption: "@LilMiquela you can only hide for so long." Politically, they have opposite beliefs. (Lil Miquela has openly supported immigrants' rights and Black Lives Matter, for example.) But the real gripe Bermuda seems to have with Lil Miquela is that she's not being transparent enough about her identity. And she's ignoring Bermuda — "her own kind."
What happened on Tuesday?
Bermuda took over Lil Miquela's Instagram and wiped it clean, calling the move her "next step." She then shared six different posts with long, ranting captions, four of which were selfies. In addition to calling Lil Miquela a "fake ass person," Bermuda also gave her an ultimatum, saying that she wouldn't give Lil Miquela her account back until she told people "the truth." The irony, of course, being that neither of them are real.
How did it end?
Bermuda eventually gave Lil Miquela her account back but said that she had 48 hours to "tell the world the truth" or she would do it for her. All of Lil Miquela's photos have since been restored, and there is no hint on her account anything had happened all. (When asked for comment, an Instagram spokesperson replied that they can't speak about individual accounts.) Back on her own account, Bermuda called the day a "success."
What does it all mean???
Naturally, there are a lot of theories out there, including that this is a sign the world is going to end today. (Still here!) Bermuda decided to "hack" Lil Miquela when she reached 2,222 followers. Lil Miquela was born on April 22, which is Sunday. Will Lil Miquela finally reveal herself (or himself/themselves) two years in? The timing feels right. And it feels particularly relevant to have a Trump troll responsible for the leak. Our main question right now, though, is whether or not Bermuda and Lil Miquela are actually colluding.
Alright. Was Lil Miquela actually hacked?
On her verified Twitter account, Lil Miquela said that she was hacked. But according to a source close to Lil Miquela, it's a hoax. She was not hacked; it was a planned stunt. Neither Lil Miquela nor anyone from her team we've reached out to has confirmed this as fact, but if there's one thing this whole debacle has illustrated, it's that the borders between fake and real are highly porous. Maybe we're the ones who were hacked, after all.
We will continue to update this post as we learn more.
Update: April 19, 2018 at 1:22 p.m.:
Lil Miquela and Bermuda finally "met" on Wednesday afternoon, with Bermuda sharing a photo of them together as proof. Miquela shared a selfie on her Stories earlier that day wearing the same hoodie, so we're going to assume that this photo is "real."
"More emotional than I thought it would be," wrote Bermuda in her Instagram caption. "Despite it all, there's only three of us out there and we need to stick together. We talked it through and [Lil Miquela] said she's going to come clean tomorrow."
First of all, who is this third avatar Bermuda mentions? Our best guess is Lil Miquela's "brother" Blawko. She shared a tweet about him on National Siblings Day, but with the parenthetical that they're not actually related. Secondly, what will Lil Miquela "come clean" about today? The anticipation is killing us.
Update: April 19, 2018 at 2:20 p.m.:
Wait … is Lil Miquela's big reveal … that she's not real? Please hold.
Update: April 19, 2018 at 5:45 p.m.:
Okay …What?!?! After sitting with this new information for a minute, it still doesn't make any sense. Let's start with what we know. Or what we think we know. Lil Miquela says she's not human. Yeah, no kidding. It seems obvious, but if you look the comments on Lil Miquela's Instagrams, her fans interact with her as though she's a living, breathing person. In fact, when she was "hacked" by Bermuda, many cried: "Bring back the real Lil Miquela!" So, fine. Maybe people needed to hear this again: Lil Miquela is not real.
But what is she then?
Here's the "real story," according to Lil Miquela's most recent post: She was built in Sillicon Valley by a "literal genius" named Daniel Cain in order to be a "servant." (Reminder: Neither Daniel Cain nor his company are real, as far as we can tell.) Lil Miquela was then "stolen" by another company called Brud, which told her that she was "created based on the life and mind of a human named Miquela Sousa." She was given Miquela's memories, her mind, her personality. Brud also said that they'd "re-programmed" her to be "free." (Hold on, is this the plot of Ex Machina?)
In actuality, though, Miquela Sousa never existed. Lil Miquela and her friends are simply "robots" — her word — created out of thin air and used to make money. (For what it's worth, when asked if Lil Miquela, was, in fact, a robot, a source replied, "Loll no!!!!'" She's CGI.)
At end of the day, this whole stunt seems like a neat way for Lil Miquela's creators to continue to profit from her existence with record deals and sponsored posts (which, unlike real-life influencers, she's never disclosed before), while making it seem like she isn't in it for the money. In other words, it separates Lil Miquela's motives from the "person" we've come to know. How can you fault her for anything now? Also, if she and her gang of robots decide to "break free" from Brud in their next chapter, this sets them up for a literal robot rebrand. (With their creators still raking it in, of course.)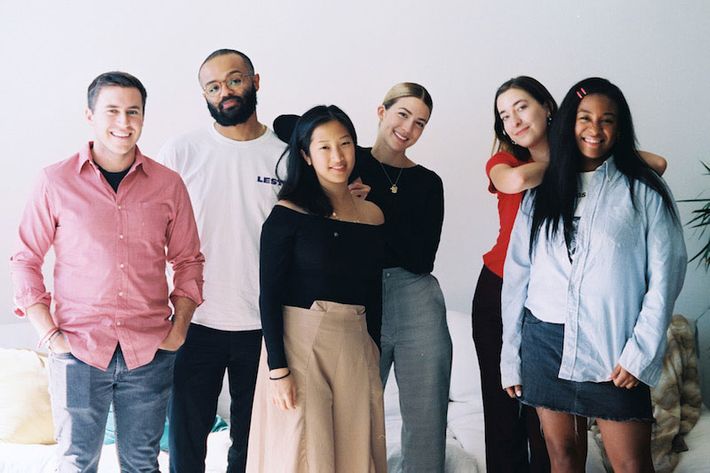 Like our robot friend, Lil Miquela, we've still got questions. Namely, who and what is Brud? Is this a PR stunt for a very real company that plans to make a million more Lil Miquelas? And are they to be trusted if they're creating creepy pro-Trump trolls like Bermuda? (Or was Bermuda never stolen from Cain?) Brud's website describes the company as a "group of Los Angeles based problem solvers specializing in robotics, artificial intelligence and their applications to media businesses." A photograph of six real-life humans also appears on the homepage. Are these Lil Miquela's creators? Someone is bound to recognize them at some point, so it's probably only a matter of time before their identities are revealed.
"More soon," concludes Lil Miquela.
Update: April 20, 2018 at 4:45 p.m.:
Phew! We're exhausted. The dust finally seems to have settled, though. On Friday, Brud shared its own side of the story on Instagram. "We're a small team of artists, engineers, roboticists, and activists operating with the belief that technology can help bring about both a more empathetic world and a more tolerant future," the company explained in a post.
Brud then went on to reiterate the same (weird, fictional) tale about Cain Intelligence creating Lil Miquela to be a "servant and sex object," and how Brud saved her from that tragic fate. "It troubled us more than we could ever possibly express to think that such a miraculous breakthrough would be used for the sick fantasies of the 1 percent," Brud added.
It's a funny thing to say, since Lil Miquela is still a fetish object that was designed to be beautiful and wear expensive clothing. But okay. The post concluded with an apology to Lil Miquela, who refused to accept it in a post on her own account. ("ARE YOU KIDDING ME???" she wrote — a phrase we can also identify with right now.)
At this point, this saga has taken so many strange twists and turns that Lil Miquela, Ronald Blawko, and Bermuda have all kind of lost us. But we do have one last big thing to share: Lil Miquela's creators have been out there this whole time, right under our noses.
Yes, we know who created Lil Miquela. All of them. And you can find out, too. Their names are literally listed on Brud's LinkedIn page under the tab: "See all 11 employees." A handful of their profile pictures match up with the faces in the above photo. And we've confirmed with our source that the co-founders are indeed who they say they are.
It's laughable how easy and anti-climactic it was to find all this out. Which goes to show that maybe it doesn't really matter who is behind Lil Miquela; it's about the fantasy. We're not interested in naming names. If you want that information, you can go find it. (Don't worry, we've saved some PDFs in case the LinkedIn ever gets deleted.)
That being said, we are interested in who Brud's employees are as people, i.e., how and why they do what they do. For example, one of the co-founders, or "Head of Compassion," as he calls himself, is a Katy Perry–adjacent DJ, producer, and director. In other words, our next step is to triangulate Lil Miquela in the real world.
So Brud, if you want to talk, we're listening.