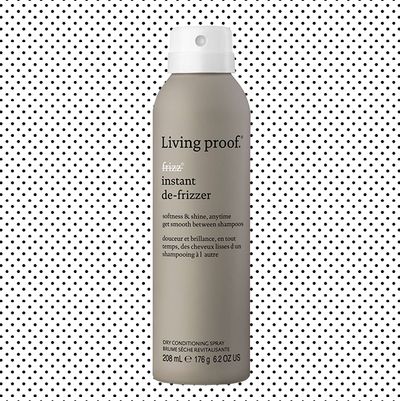 Fine-haired people have enjoyed the oil-absorbing benefits of dry shampoo but the frizzy-haired world has gone without an acceptable alternative for far too long. Living Proof agreed it's about time women with frizz-prone hair get a dry conditioner that helps them go even longer between washes, so their hair will look just as great on day four as it did on day one.
The main cause of frizz, other than chronically playing with your hair and unforgiving humidity, is a lack of moisture. Living Proof's senior chemist, Lauren Trahan, created its Instant De-Frizzer with a five-oil blend that coats strands to help seal in moisture. Of course, if your hair is already dry, applying oils won't help at all — they're only good for sealing in moisture that's already there. Enter Living Proof, which has formulated its De-Frizzer with a conditioner that targets the driest and most damaged parts of the hair.
While spraying products onto your hair sounds like the exact opposite of what you should do to tame frizz, the spray absorbs and dries quickly so it doesn't sit on top of hair and make frizz even worse. If you have curly hair, try twirling the product through your curls to help reshape them. All in all, the De-Frizzer dry conditioner will definitely be a curly-girl savior because going through an entire wash-day routine multiple times a week isn't ideal.
The De-Frizzer is available now from Living Proof and Nordstrom.
If you buy something through our links, New York may earn an affiliate commission.