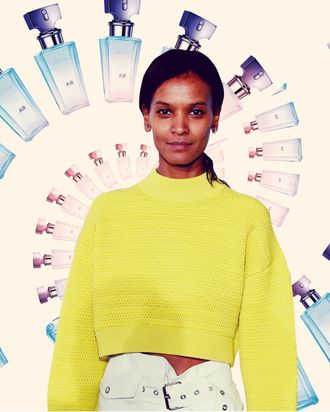 Liya Kebede.
Photo-Illustration: Stevie Remsberg/Getty Images
Call it the Proust effect: Memories are best triggered by smells. Scientific studies confirm that out of all the senses, smells and fragrance offer the best recall. Our new feature, Scent Memories, will ask its subjects to talk about the scents they associate with different emotions and thoughts. Next up is Liya Kebede, the face for Calvin Klein's new Eternity Air fragrance. Jake Gyllenhaal was lucky enough to star alongside the Ethiopian-born model and humanitarian for the latest Eternity Air campaign — a swoon-worthy short film and photo series of the two interacting with a young child. Eternity Air is a lighter rendition of the classic Eternity fragrance, with notes of grapefruit, pear, and cedar. Kebede spoke with the Cut about her favorite scents, including the smell of babies and of honey.
My first scent memory: Rain, in a way. There's something really beautiful about it. It's very refreshing and there's a renewal and a rebirth.
The smell I associate with love: All the smells in the world all at once. Because there's all sorts of smells with love. It's gentle and sweet and fresh, but it's also really intense.
Happiness smells like: The smell of babies, it's innocent and happy in a way. It's very sweet, like sweetness, not like a desert.
Sunday morning smells like: It smells lazy — like warm breakfast and honey.
Monday morning smells like: Oof, I don't know. A very strong black coffee.
Friendship smells like: A good cappuccino, something very deep and intense. I'm a big cappuccino drinker.
A pleasant surprise smells like: Men's fragrance. When I smell a man's fragrance it's always really nice.
If you could have one smell on your hands forever, what would it be and why? The smell of love would be nice.
What do you like your own air to smell like: Fresh and clean, like the smell of the air around forests and trees.
How the new Eternity Air differs from the original: It's a lighter fragrance, it's very fresh and airy. It's not too feminine, and it's very nice.
I smell like: I don't know what I smell like. Maybe yummy-scented body lotion. I use a lot of body wash, often it's like a tangerine smell or sometimes rose. I'd imagine a mix of that. But very lightly, I don't like very intense and heavy smells. I like it when it's soft.