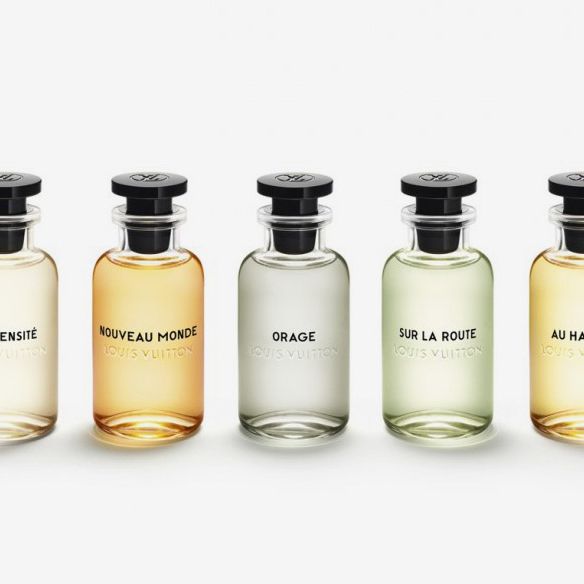 Not long after Louis Vuitton released seven women's perfumes in 2016, they'll be delving into men's fragrances. About the reason, Louis Vuitton CEO Michael Burke simply said, because they can.
According to WWD, Louis Vuitton's master perfumer Jacques Cavallier-Belletrud has been at work crafting the new collection for years. Taking inspiration from how men's fashion has evolved, with men wearing more vibrant accessories like colorful shoes, Cavallier-Belletrud wanted to make a fragrance wardrobe that was robust.
Perhaps the boldest scent is the oud Ombre Nomade, which is a Middle Eastern scent taken from the agar tree, the wood from which is some of the most expensive in the world. This scent is made from pure oud oil and gives off a spicy, leathery scent. Au Hasard is another rich scent, which uses sandalwood sourced from Sri Lanka, ambrette, and cardamom.
The perfumer also created citrusy scents like Orage, which smells of bergamot, patchouli, and iris. Two other perfumes, L'Immensité and Sur la Route, play on the fruity notes of Orage. L'Immensité is full of sparkling grapefruit, spicy ginger, and warming amber, and Sur la Route uses Calabria citrus, cedar, lemon, pink peppercorn, grass.
The last scent is inspired by the experience of eating chocolate. Cavallier-Belletrud conceived the idea for Nouveau Monde, which has notes of cocoa, saffron, and oud assam, while relaxing in Guatemala eating Mayan chocolates. This one, predictably, smells like a comforting mug of hot chocolate.
It's predicted the launches will double Louis Vuitton's fragrance sales, but for Burke, it's all about "a journey of luxury." The scents will be sold at Louis Vuitton stores and on its website beginning May 31.