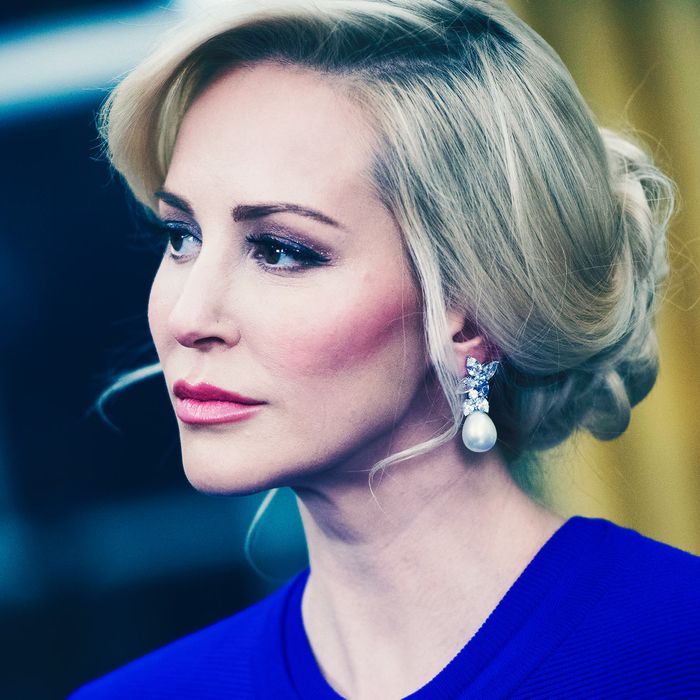 Louise Linton.
Photo: The Washington Post/Getty Images
Louise Linton would like us all to move on. Ever since she bragged about her #hermesscarf and #valentinorockstudheels in an Instagram post during an official visit to Kentucky in August (and then wrote a long, angry response to an Oregon mother who criticized her), the wife of Treasury Secretary Steve Mnuchin has been working to rehabilitate her brand-tarnished image. In September, she told Washington Life she "deserved the criticism," in February, she told Elle she was "super-duper" sorry, and in a Washingtonian profile published this weekend, she said she was a "bozo" for sharing that "silly" Instagram post, but that she's found peace.
In the article, we learn how much Linton loves her dogs ("Teddy, Bisou, and Beersy [short for De Beers]"), how laid-back she and Mnuchin are (she affectionately refers to him "hubby" and "hubsies," and they enjoyed the film Trolls together) and how mean other Washington socialites have been to the young, bubbly Scot.
"I thought she was totally ridiculous," revealed one "well-regarded philanthropist" who met Linton at a dinner party. Per the Washingtonian:
Alone in her office as we speak, the woman then lowers her voice to a barely audible whisper, as though Linton's transgressions were beneath the dignity of a conversational tone: "She changed her place card."




"She did not know how to deal with the dignitary she found herself beside," she adds, her voice back to a normal octave. I ask if she could elaborate a bit. Was Linton gauche? Impolite? But several months after the fact, the philanthropist still seems too stressed by the whole thing to say more. "She just has to learn Washington protocol," the woman says.
Linton knows she needs to learn Washington protocol. She told Elle she's enlisted the help of a protocol expert to help her with Washington etiquette. But while she has been working hard to make up for her early Instagram misstep, she really thinks everyone should chill about that leather gloves/Bond villain picture, okay?
"I didn't take the bloody gloves off because it was cold!" she told the Washingtonian. "It was a little bit of a chilly day. Whatever. I liked that outfit, okay? Don't be mean to me because I wore a pair of gloves."
Read the full profile here.