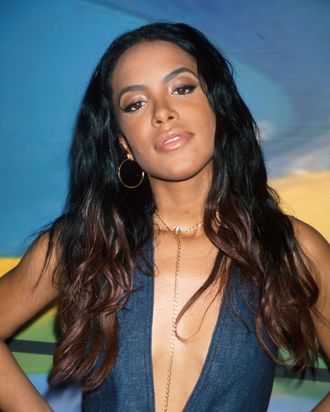 Photo: Dave Allocca/DMI/The LIFE Picture Collection/Getty Images
It feels like a million and one years since M.A.C Cosmetics first shared that it would create a collection in honor of the late R&B singer Aaliyah. The initial announcement was made in August and fans have been waiting, sometimes impatiently, for a release date. Yesterday, the collaboration-happy company finally announced the collection will drop online June 20 and will hit shelves June 21.
The collection originally started out as a change.org petition (like the Selena Quintanilla one before it) that was backed by Aaliyah's brother, Rashad Haughton, rapper Missy Elliott, and Aaliyah's former makeup artist Eric Ferrell. According to the petition, Aaliyah's brother said she was a M.A.C fan, listing the Chestnut brown lip liner and Espresso eye shadow as two of her favorite products.
In an Instagram post today, M.A.C said the Aaliyah products will appropriately have '90s glam vibes and celebrate her work in the music and film industries. The brand also posted one nude lipstick from the line that would look great on darker complexions, but is keeping mum on all other details. Hopefully, the collection will also include a peachy nude lip gloss (perhaps called Try Again?) and a smoky eye-shadow palette worthy of Aaliyah's Queen of the Damned role.
For those who can't wait until June 20 to get their Aaliyah fix, M.A.C is asking fans to submit photos and videos to help create a short film that will celebrate her legacy.