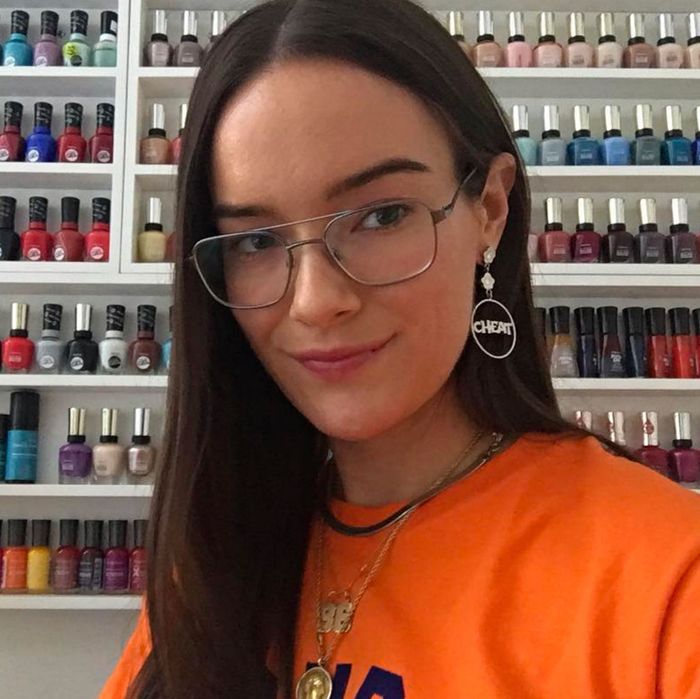 In a world of people turning to minimalism as an #aesthetic, Madeline Poole's cartoon-colored world has me dizzy with new ideas. The New York–based manicurist has worked with brands from Nike to Chanel, and last month she concocted a six-color collection with frequent collaborator Sally Hansen. Poole is also something of an — excuse the phrase — "It Girl," popping up wherever there are parties, often with fellow creative friends like Paloma Elsesser and Phoebe Lovatt.
Personally, I've been intrigued by Poole since I saw her dancing in the corner of Fashion Week's infamous Telfar rager. I'm also obsessed with her new shade Slime Scene, as you might be too if your early memories include electric-green Nickelodeon slime. (Poole is deliberately tapping into that nostalgia. She describes her new set as "inspired by very early color memories, from a time when bright colors were abundant and embraced.") Below, I talked to her about getting into accessories, what she likes on her own nails, and why she's so wild about color.
You express yourself with color in an array of ways: your hair, your clothes, your social media. Has this always been important to you? What do you say to people too intimidated to wear funky colors on their nails?
Yeah, it's true! I am a color enthusiast. But to be honest, I only like to wear white, red, or occasionally orange on my nails. So I don't ever force people to wear [crazy] nail colors because I totally understand a preference for a classic. Because I'm so colorful in my wardrobe, I prefer to wear very basic nail colors so I don't go over the edge.
"Slime Scene" seems to be an Instagram favorite. Why do you think that is?
I'm really happy about that. When we were finalizing the colors there was concern that "Slime Scene" wasn't going to be bought up by stores because it's such a strange color. But I thought that if nothing else, it would draw your eye to the collection and that it would be photographed a lot because it's so unusual. Fortunately, that seems to be the case!
How did you come up with the idea of the clear purse the polishes come in?
I often get beauty products sent to me, and in general I find that gift packaging is very wasteful. As an editor, I'm sure you know what I mean. It's always a box five times the size of the product, I feel bad for all the expensive cardboard and paper being wasted. So I wanted to put the polishes in something that could be repurposed like a purse. But I also wanted you to be able to see color, hence the clear material.
What's an easy fun design that people can do at home with this set?
Well, I will always and forever love a leopard print. If you use "Slime Scene" as the base then "Say It Lycra Mean It" as the inner spots and "Mallratz" to squiggle around the spots, you have a really good acid leopard print. That's also one the the easiest nail designs to start with. Organic shapes are always easier to do as they're basically just a series of squiggles and dots.
And how did you come up with those names?
I sat at breakfast with my friend Grace and we just made jokes. Jokes all morning until we had a big list. You have to submit quite a few names to ensure that one per color will be approved but most of my top name choices were approved and I was sooo proud of the puns we came up with. I've always loved a nail polish pun.
I heard some rumors that you're coming out with accessories later this year. Can you tell me about that?
Yes, I'm working on that! I believe I'm starting with a few little things, casual bags and tank tops. It will be called Feveroom! I'm also doing a sunglasses collaboration with my friends company called Takesh Eyewear which will be in spring. I've been experimenting more with graphic design specifically in and around apparel, so I'm giving it a shot.
Photo: courtesy of Marc Jacobs Beauty
Photo: courtesy of Marc Jacobs Beauty
Photo: courtesy of Marc Jacobs Beauty