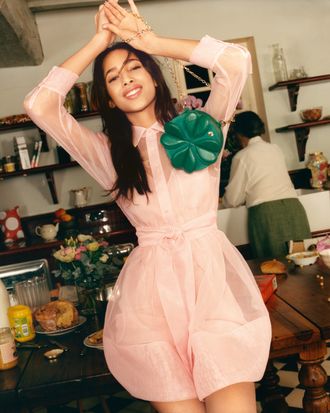 Model Yasmin Wijnaldum in Paris, representing Maje as "family."
Photo: Mark Peckmezian
Twenty years ago, the French-Moroccan fashion designer Judith Milgrom founded and named her Parisian label Maje: a word that combines the first-name initials of her loved ones. Maje became a cult-favorite French brand like Rouje and Sézane, offering chic bohemian-inspired wardrobe staples within a reasonable budget. Milgrom is the brand's creative director.
To celebrate the label's 20th anniversary, Milgrom commissioned three photographers to stage fashion shoots for a limited-edition coffee-table book: Mark Peckmezian, Thurstan Redding, and Coco Capitan. Each photographer shot a different Maje "value" in Paris, Morocco, and London, respectively: family, friendship, and love. Model Yasmin Wijnaldum starred in each portfolio.
Peckmezian, featured above, captured "family" and spontaneity in Paris. Redding, shown below, portrayed "friendship" under the Ouzoud Waterfalls in Milgrom's native Morocco. Capitan teamed up with the painter Frances Wilks to shoot "love" in London, where Maje will open its largest-ever European store in the coming months. "It's our 'tomorrow,'" Milgrom said of the London photos. "I wanted to project the brand into the next 20 years." But of course: "Paris is and will always be in my heart and soul," she said, "and that will obviously be visible in our collections."
See Redding and Capitan's photos below for a preview of the book, available online and in Maje stores.