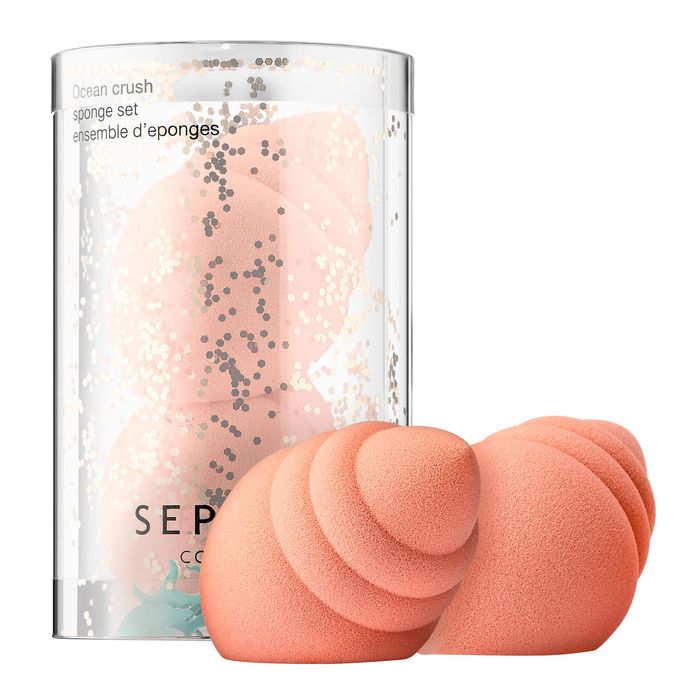 Sephora Orange Crush Sponge Set.
They say the internet is rife with discord, until last week that is, when everyone rallied and agreed this new makeup sponge looks like a penis.
The sponge, which comes from Sephora's in-house brand, landed on the store's site earlier this month. It's part of a two-piece package called the "Ocean Crush Sponge Set," and depending where you sit on the immaturity index, the flesh-colored makeup tool resembles anything from a conch, to Alf's nose, to a penis.
Twitter is already having a field day, and reviews for the sponge on Sephora's site are starting to arrive. "Great sponge but why orange? Sephora should have gone with light and dark skin tone shades, for obvious reasons," wrote one person. "Ummmmm, at least it's circumcised????!!!" wrote someone else. A third person commented: "They're cute. Ya'll need some mind bleach, jeez," although it's unclear why they would suggest that.
Here are the sponge's instructions, pasted verbatim from Sephora's site below:
Suggested Usage:

-Use wet or dry depending on the desired type of coverage. If using wet, run under water and gently squeeze out any excess.

-Use the top swirl for all-over application and blending.

-Use the tapered bottom tip for applying in hard to reach areas of the face, around the nose and eyes.

-Use the flat cut surface for stippling and blending around facial contours.

-Once used, rinse with warm water and a mild cleansing soap.

Precautions:

-Avoid leaving sponges in damp and dark areas, especially when drying.



Enjoy — it's only $12!