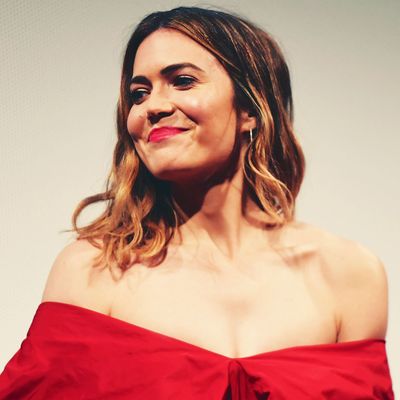 Mandy Moore.
Photo: Matt Winkelmeyer/Getty Images
Stars! They're just like us!
Last weekend, Mandy Moore shared a screenshot on Instagram of our story, "I Want This Cult's Look," with the caption "Same." Clearly, she's just as obsessed with the monochrome style portrayed in Wild Wild Country — Netflix's new six-part documentary series on the Rajneeshpuram cult — as we are. But Moore took her love of the look one step further by applying it in real life.
On Sunday, Moore shared photos from her recent "girls' weekend" in the wilderness of Big Sur, California, which was timed to her 34th birthday. Curiously, everyone is outfitted in monochrome. In one photo, they all wear green. In another, all shades of red and orange. My first thought was: They look a lot like Rajneeshees. And then I read Moore's hashtag, which read, "Yes our color palette was inspired by Rajneespuram." So there you have it.
According to Moore's Instagram, her girls' weekend included walks in the redwood forest, poolside chats, and endless laughs. Plus good food and wine throughout. Rajneeshpuram certainly had its flaws (and Antelope is no Big Sur), but Mandy Moore's girl cult sounds pretty chill. How do we join?