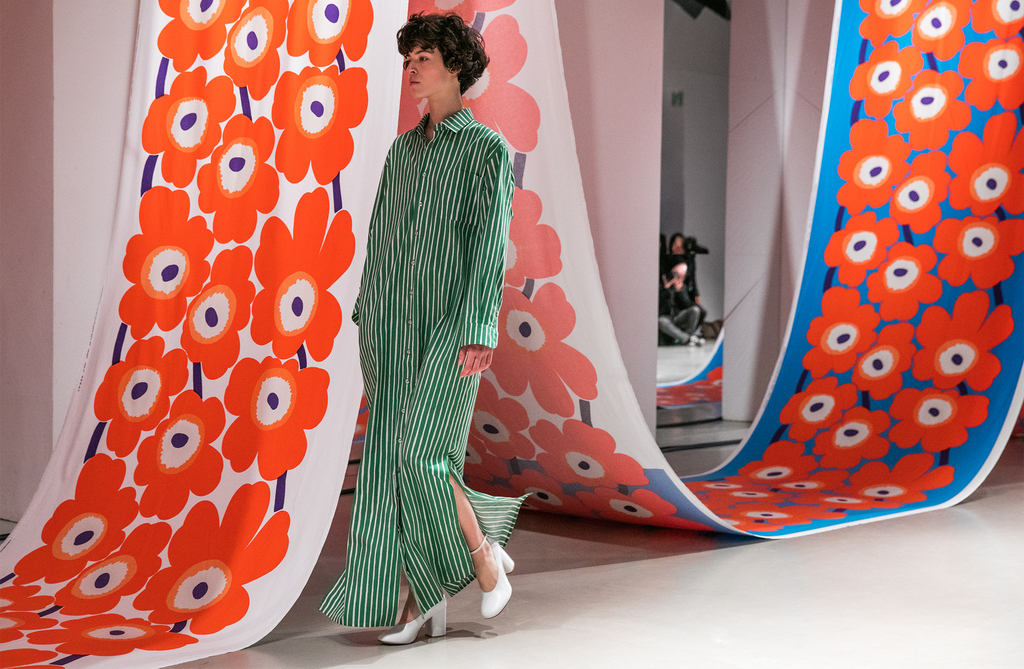 When it comes to recognizable fashion labels, only a few are easily identifiable by their prints alone. Marimekko is one of those brands. The Helsinki-based apparel and home-goods line features iconic, Pop Art-like florals, gigantic squiggles, and deconstructed paisley in crisp palettes. These bold but highly wearable heritage prints, originally designed in the 1950s and '60s and radically unchanged since, continue to resonate today, with the brand's spring collection featuring many updated in fresh colorways, alongside a few contemporary designs conceived in 2016.
Although the Marimekko archive brims with classics like the Unikko poppy and Lokki waves, no other print has as compelling backstory as the Tasaraita, which is Finnish for "even stripes." These simple, uniform lines — introduced in 1968 — are symbolic of a politically charged era defined by the Civil Rights Movement. In celebration of Tasaraita's 50th anniversary (and its latest reiteration for the spring/summer '18 collection), we spoke with Satu Maaranen, Marimekko's current head designer of ready-to-wear, bags, and accessories, about how this timeless print carries on a legacy of social justice today.
How has Marimekko built its brand upon a legacy of strong women?Marimekko was founded in 1951 by a visionary woman named Armi Ratia. She empowered people to be happy and wanted to bring joy to their everyday lives. With avant-garde prints and architectonic, liberating silhouettes, Marimekko designers – always working together as a collective – encouraged women to express themselves freely and walk their own paths boldly, values that are as relevant now as in the 1960s and '70s. Many of our designers, in fact, have been part of a class of strong-minded women who were ahead of their times. For us, it is not about who designed each piece so much as it is about the freedom to create as a group.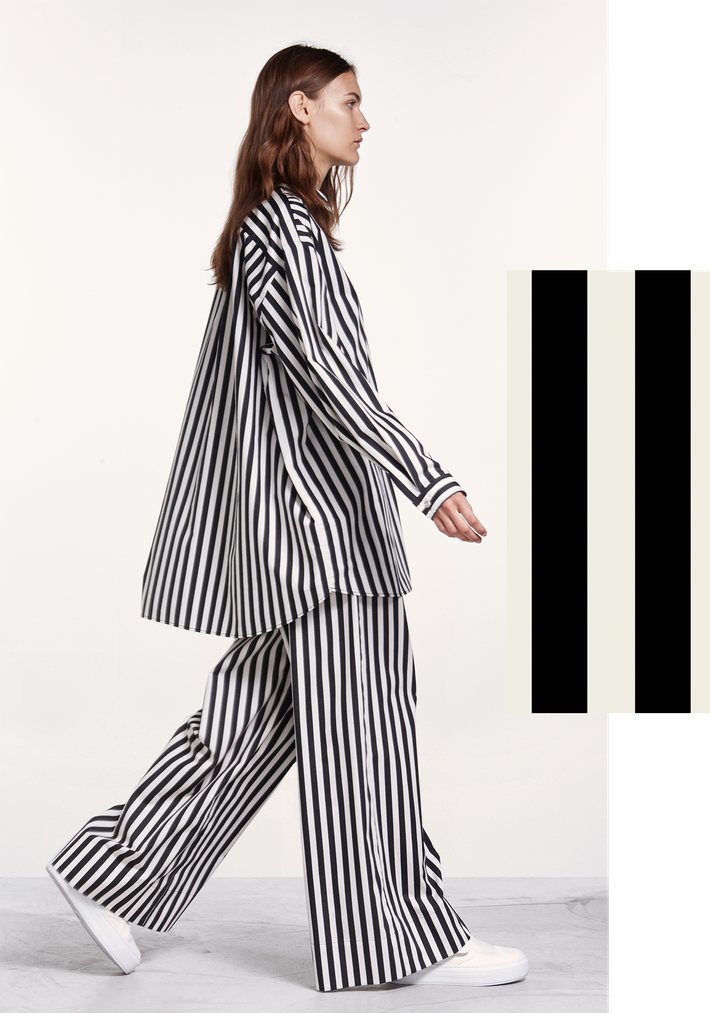 What's the significance of the Tasaraita stripe?
In 1968, designer Annika Rimala created a new symbol for the era of unisex: the Tasaraita, which are even stripes. The year was a time of reformist and brave ideas and actions. Passionate battles for racial and gender equality extended to fashion and decorative arts, bringing to the fore the concept of anonymous – or unisex and democratic – designs. It was then that Marimekko's symbol of equality was born.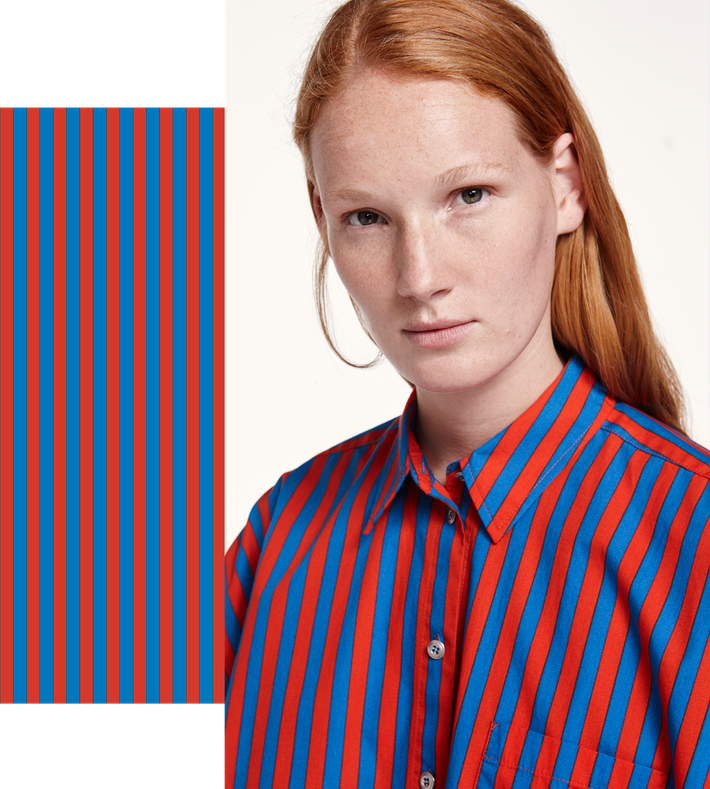 What new updates can we expect to see for the Tasaraita this season?
The Tasaraita stripe has been part of the Marimekko jersey line since [its inception in] 1968. Now, during this anniversary year, we will see the Tasaraita print in woven cotton for the first time. It's printed at Marimekko's in-house factory in Helsinki, which serves as an innovative hub for our creative community. The spring/summer 2018 collection marries this iconic stripe into new, contemporary silhouettes and surprising colorways.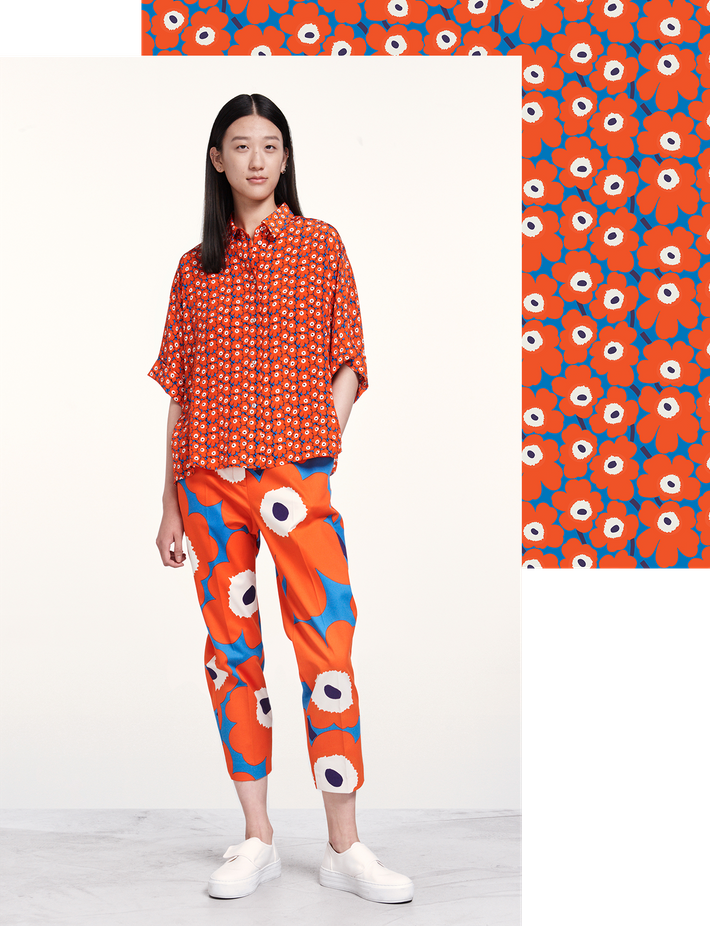 What's the story behind the Unikko print? It's easily Marimekko's most recognizable design.
The Unikko [Finnish for "poppy"] is one of our best-known prints and it plays an important part in the collection. The story behind the print is also bold. It was born in 1964 after founder Armi Ratia had announced that Marimekko would never print a flower pattern. A designer named Maija Isola refused to obey Armi's orders and, in protest, created an entire series of gorgeous floral prints. One of them was the Unikko, which has now become a story of creativity, strength, courage, and faith in oneself.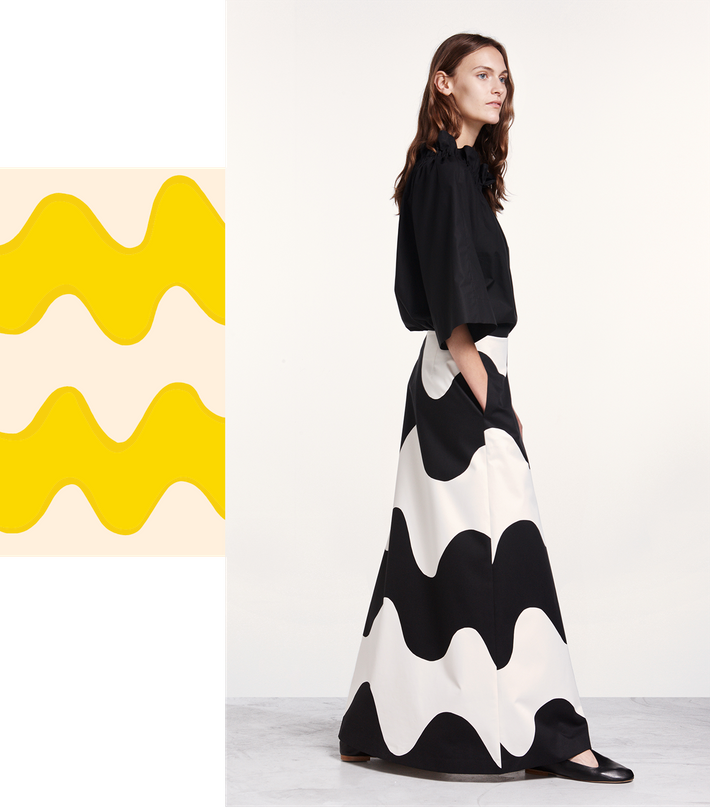 For having such a distinct aesthetic, why do you think the brand has aged so gracefully?
Marimekko has always been true to its mission of empowering people to be happy through bold and colorful prints, its roots, and its founder's legacy. Armi Ratia stated in the 1960s: "I really don't sell clothes. I sell a way of living. They are designs, not fashions…I sell an idea rather than dresses." Ratia kicked off a line of strong, visionary women, and we've been proud ever since to build an internal creative community that's been consistently ahead of its time.
This is paid content produced for an advertiser by New York Brand Studio. The editorial staff of The Cut did not play a role in its creation.