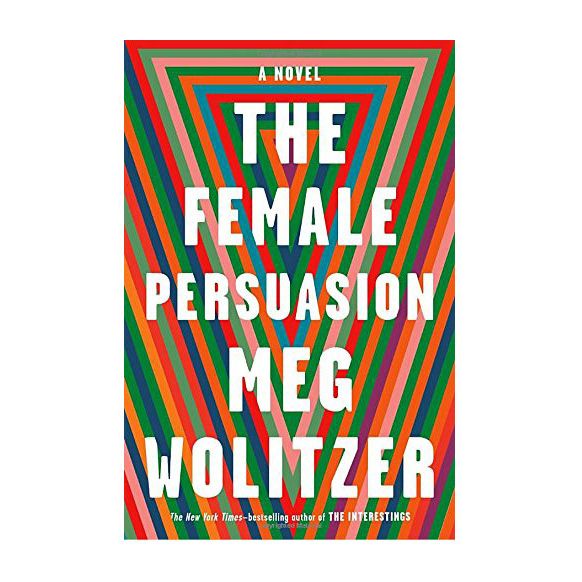 The Female Persuasion by Meg Wolitzer.
Women mentoring women in the workplace is a central subject of Meg Wolitzer's timely new novel, The Female Persuasion, which was recently selected as the first book in Barnes & Noble's new national book club. It shows how mentorships between women begin, and tracks the narrative arc of how the mentor-mentee relationship evolves and changes over time.
At Wolitzer's book party last fall, dozens of women gathered in a Manhattan wine cellar to listen to her talk about her own mentor, Nora Ephron. In a conversation with New York's Rebecca Traister, she remembered becoming one of Ephron's many protegées in the 1980s, after Ephron made her novel This Is My Life into a feature film. The two were friends for 24 years, during which time Wolitzer watched Ephron mentor many women, including Traister and Lena Dunham, by calling up young writers to tell them she liked their work and offering to read more of their writing.
In the beginning of the book, Greer Kadetsky is a college freshman, and Faith Frank is a 63-year-old feminist icon. Frank is a fictionalized lesser Gloria Steinem, with her own version of Ms. Magazine to match: Bloomer. When Faith visits Greer's college campus to give a speech, Greer follows her into the bathroom and nervously introduces herself. Faith offers her business card, and changes Greer's life forever.
The book's timely 21st-century plot is astutely framed by Wolitzer to explore and challenge the current feminist discourse. "Women were forever summiting," she writes. Later, after Faith opens a new women's foundation: "People were writing things on Twitter like #whiteladyfeminism and #richladies, and the hashtag that for some reason irritated Faith most, #fingersandwichfeminism." The characters' internal monologues include intricate musings on campus sexual assault, parenting, and powerful men at the office. "What I do with my body, and how I choose to spend my time — all of it is my decision," one woman says about abortion. "I get to decide."
Wolitzer is well attuned to modern trends, writing a "realistic" novel in which most college grads become consultants or go to work for a version of Teach for America. Her depiction of intergenerational and empowerment feminism has received laudatory reviews in the New York Times as well as criticism from feminist writers who argue she fails to portray intersectionality. "Something I did try to do deliberately is portray the white feminist leaders in the book struggling to build a multi-racial movement," Wolitzer told Jezebel. "So the questions I hope readers will ask is why weren't they successful? Where do good intentions and blind spots collide, in each and every one of us? What more can be done?"
I loved the book for the way it portrays every uncharted step of Greer's "find a mentor" process, which was crucial for my own career path but also felt like a tortuous etiquette dance. Faith gives Greer her card, and Greer agonizes over when to follow up with her: Immediately? Or when she actually needs something? Greer has an embarrassingly starry-eyed job interview with Faith; later, after she gets the job, she gathers the courage to enter Faith's office and speak up about an issue at work. She disappoints and angers Faith on the job, but also makes her proud. Meanwhile, Faith keeps her office door open and promotes and recognizes Greer for her talent. It felt fresh and invigorating to see a familiar woman-to-woman work relationship develop in a novel.
At Wolitzer's launch party last fall, each guest's name tag had two blank spaces: one for your name, and another box just below it, to write the name of a woman you look up to. I heard women at the party having conversations and debates that were similar to those being brought up in book reviews. One woman and I discussed the book's final chapter, which Wolitzer rewrote after Trump won the election. But most people started up conversations with the second name on everyone's name tags: the names of our mentors. "Who is she?" we asked. "How did she help you?" Now, reading both The Female Persuasion and its critical reviews is itself an exercise in modern feminism and mentorship.
The Female Persuasion is out April 3 from Riverhead Books. Barnes & Noble's inaugural Book Club night will take place on May 2 from 6–7 p.m. in stores across the country.
If you buy something through our links, New York may earn an affiliate commission.