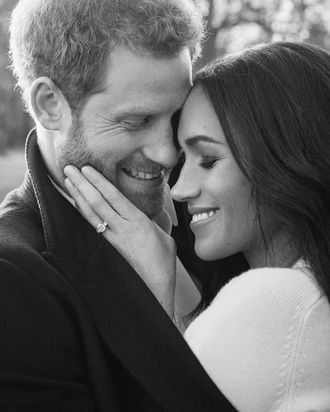 Prince Harry and Meghan Markle's engagement pic.
Photo: Instagram/kensingtonroyal
Meghan Markle's upcoming royal wedding to Prince Harry will be far from your normal nuptials — he's a prince, they're both rich and beautiful, the Spice Girls will be there, and so on — but it turns out there is one aspect of the pair's union that is at least slightly relatable: The Suits star found their engagement photographer on Instagram.
Speaking with E!, photographer Alexi Lubomirski revealed that he was selected for the royal engagement gig thanks in large part to social media. "It was nutty. It was a very surreal end to the year because it came out of nowhere," he told E! "I think one of Meghan's friends saw me on Instagram that I was in England during the announcement of the engagement and I was told later that this person said to her, 'You should meet Alexi. He's great. You'd love him' and that was it."
Now, it should be noted that Lubomirski isn't just any Instagram photographer. He actually trained under Mario Testino and is a high-fashion photographer who has shot various Vogue, Elle, and Harper's Bazaar covers in the past. However, he had never shot an engagement shoot before, so the royals were his first. But luckily, according to Lubomirski, the whole thing was a piece of (lemon elderflower) cake (sorry, I'm so sorry).
"It was one of the easiest, most joyful jobs because they were so deliciously in love," he said. Apparently all Lubomirski had to do was tell the couple, "Just be yourselves and I will take pictures of you," and bam, the shoot was a success.
Lubomirski told E! that he and his wife were invited to the royal wedding, but he apparently was not asked to photograph the affair. But we're happy to offer up our Instagram handles if Markle is still looking for someone else to take on the job!