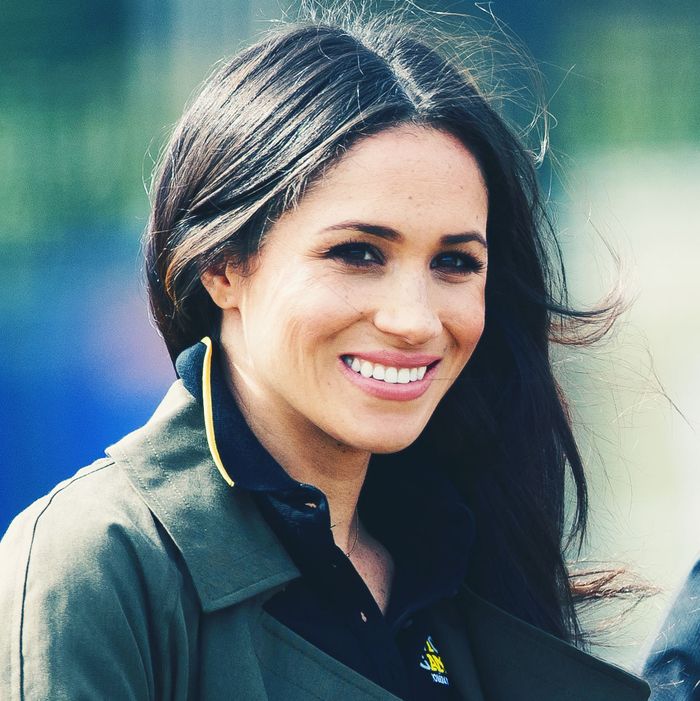 Meghan Markle.
Photo: Samir Hussein/WireImage
In just a few short weeks, Suits star Meghan Markle is set to marry British man Prince Harry in a very royal wedding. To keep ourselves occupied until then, we've been staring at pictures of her messy bun and asking ourselves what the future duchess (of Sussex, probably) is doing at this very moment. While we often assume she's partaking in her favorite hobbies of calligraphy or cooking roast chickens, we now know that it's likely she might be working out, since her former trainer has opened up about Markle's passion for health and fitness.
Speaking with Women's Health, trainer Craig McNamee of Catalyst Health in Toronto, who worked with the actress for three years while she was filming in the Canadian city, explained that Markle is "very focused on her health." Unsurprisingly, Markle — who's had an avid running and yoga routine for years — was already in "fantastic shape" when she first started working with McNamee. So he added circuit-based strength training to her existing routine.
The duo would meet up three or four days a week for 45-minute workout sessions. "For Meghan, we tried to schedule these workouts early in the day, to make it a priority," McNamee told Women's Health. "Generally speaking, we had a full-body approach. And since Meghan was onscreen, we really focused on posture."
McNamee would have Markle do a five-minute cardio warm-up, followed by five minutes of dynamic stretching, a strength-training circuit, and then a five-minute stretching cool down. His exercises with Markle would focus on her glutes, back, and hamstrings, in addition to a bunch of core work. She apparently loved lower-body exercises that involved a mini-band, would use ten-pound kettlebells, and she'd also do 20 to 25 reps with low weights, rather than heavy lifting.
The trainer hasn't worked with Markle since she moved to London for her new soon-to-be royal life. But they're apparently still in touch, and the trainer said he's confident she's keeping up with their training routine. He also, graciously, developed a sample Markle-esque circuit workout for Women's Health, which you can check out here.